No more trains through Laval Train Station, a fire shortly before 6pm. The locomotive of a TER caught fire. No injuries were reported.
Impressive smoke, acrid smell of burning plastic. This was the scene at the railway station in laval this late Saturday afternoon, when a TER train caught fire.
Shortly before 6pm, the engine of a TER locomotive, which was preparing to go to Rennes and Saint-Malo when the engine caught fire for an unknown reason.
At the time there was no passengers aboard the train, and no one was injured.
Traffic, for obvious safety reasons was completely stopped and no train between Rennes and Laval and between Laval and Le Mans could circulate.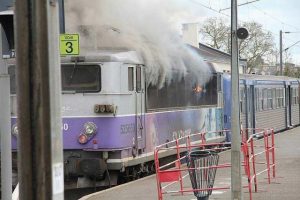 The fire was quickly extinguished by fire fighters who intervened with two foam nozzles. No casualties were reported.  
Traffic will resume later in the evening, once all risks have been assessed and cleared for the public.  Obviously delays are to be expected.