During a surprise operation of the yellow vests in Brest on Tuesday 8th January, 2019, a man was injured in the head during the evacuation of the Recouvrance Bridge by the police.
Tuesday 8th January, 2019, around 3pm, about fifty yellow vests positioned on the Recouvrance bridge in Brest to delay the lifting of the bridge, scheduled for the Penfeld entry of the building of command and supply Somme, of the French Navy.
Evacuation by the police
The police (about thirty in uniform, with helmets and protections) made the decision to evacuate them. And used their tear gas bombs. The air quickly became unbreathable in the area.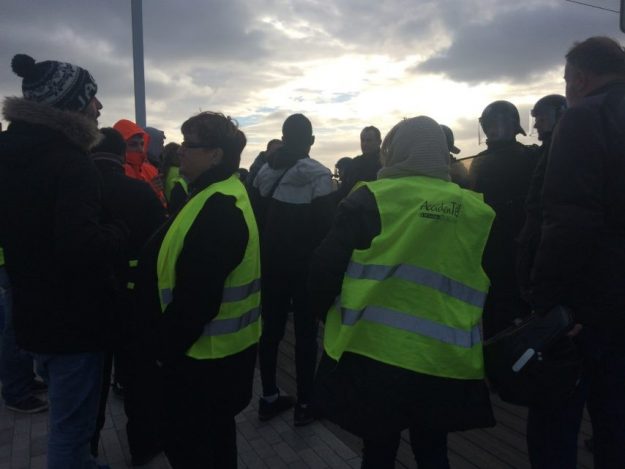 During the evacuation, a man was injured. According to the testimonies collected on the spot, he would have received a blow of truncheon on the head, causing him a notch with the skull.



The yellow vest, a man in his fifties, was taken care of by firefighters and taken to the hospital.
He is the first wounded man to be injured during a clash between the demonstrators and the police in Brest, since the beginning of the movement on the 17th November, 2018.
The yellow vests of Brest were particularly annoyed at the end of this operation. Criticising the police response, deeming it disproportionate.
They put forward the pacifist behaviour they showed during the various actions and mobilisations.
The passage under the bridge, by the Naval ship to the building of the Navy, initially scheduled at 4.15pm, had to be delayed.