The weekend of Saturday 17 and Sunday 18 February will start with a great sun to restore the balm to the heart of the inhabitants of Normandy. But the rain will come back quickly …
Is the rain, the  floods and the snow in the past for Normandy this weekend?  If the weather forecast from Meteo France is not ideal for the weekend of Saturday 17th February and Sunday 18th February, 2018, the weather begins to recover.  Finally !
Saturday, full sun in Normandy
After a relatively sunny Friday, the day of Saturday will begin under beautiful auspices. The clouds will be absent in most of our region, except for a slight haze southeast of the Eure and Orne .
Temperatures will be frozen between 2 degrees in the morning in  Mortagne-au-Perche (Orne)  and 10 degrees in the afternoon around  Coutances (Manche) . In view of the sun – except for rare showers on the Channel – scheduled for the afternoon, the recommended dress code is sunglasses and big sweater.
Sunday, return of the grey skies



A foggy start and then the return of the grey clouds will greet us on Sunday 18th February. The sun of the day will disappear over the day behind a wide cloudy veil. First in the morning in the Channel, with showers in Cherbourg and Saint-Lô. Then in the afternoon, when the sky will darken on  Caen, Le Havre and Rouen …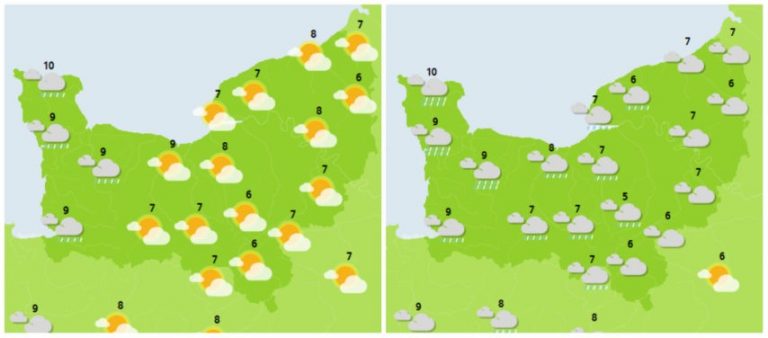 With temperatures between 5 and 10 degrees and the return of some rain, it will not be very pleasant for a Sunday outing.The return of a dry weather on the whole of Normandy is hoped next Thursday …
By then, promised, it'll be fine!