Because of the Eleanor storm, this Wednesday 3rd January, the Normandy firefighters were widely sought. S

everal Normandy roads were closed to traffic.

The Eleonor storm  swept the Normandy of its winds, with gusts over 100 km/h Wednesday 3rd January, 2018. As a precaution, the prefect of Seine-Maritime , one of five Norman departments placed in orange alert, has temporarily banned the circulation of the Normandy bridge to all users, in the morning.  Everywhere, firefighters were widely sought.
Cut roads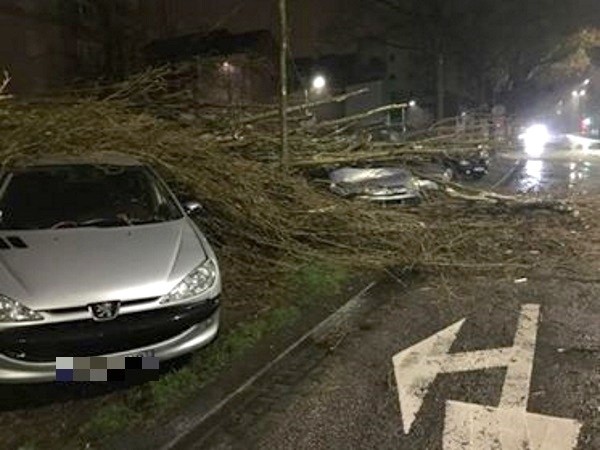 From 2.30am, Wednesday 3rd January, 2018, the prefecture has prohibited traffic in both directions on the Normandy bridge over the Seine estuary between Le Havre and Honfleur and the Grand Canal Viaduct.
The restrictions concerned only pedestrians, two wheels, vacuum trucks, vehicles attached to lightweight trailers or other, caravans and motorhomes for a time to generalize, from 7.30 am to all users. Shortly before 9 am, traffic has been restored.
#Eleanor ⚠️#PONT DE NORMANDIE ➡️La circulation des véhicules légers est à nouveau autorisée ⚠️Attention restrictions pour les autres usagers ➡️https://t.co/xO59UVf37j pic.twitter.com/XSZAbJtDoD

— Préfète de la Seine-Maritime (@Prefet76) 3 January 2018

The communication service Dirno (Departmental North West Equipment) based in Rouen has identified several areas cut off to traffic:
"This is largely restricted pathways related to fallen trees on the road. For the moment we have no knowledge of serious accidents related to the weather."
National roads that were affected in Normandy by way of restrictions:
RN138 (linking Rouen Tours)
RN814 (ring road of Caen)
RN27 (linking A 151 Dieppe)
RN12 (Orne)
On the A13 motorway, slowdowns occurred to Paris, because of a tree that fell in Bailly (Yvelines). A way has been neutralized.
⚠️????Des ralentissements sur l' #A13 en dir de Paris, un arbre est tombé à Bailly, une voie sur deux est neutralisée – Prudence ????⚠️ pic.twitter.com/FhjQD35viW

— RadioFrance Mobilité (@rftrafic) 3 January 2018

The county road agency of Calvados also intervened to many trees on the roadway. Seven teams took turns in the department, all night.
"We intervened 14 times since early this morning, only on the Caen area, especially between Troarn Touffréville, Evrecy, Saint-Manvieu-Norrey and Tilly-sur-Seulles explained Patrick Rivière operating agency director county road Calvados."
For the latter, should the situation under control around 10 am on Wednesday, however "motorists will have to remain vigilant for many hours. branches of the falls are dangerous. "
Eighty-four interventions were recorded on county roads Calvados.
The overwhelmed firefighters



Wednesday, January 3, 2018, early morning, firefighters are stretched in Normandy. In  Calvados,  firefighters intervened 22 times in the early morning Wednesday.
"In addition, 65 alerts including no urgency were received by our alert processing center and redirected to other services, says the 14 CODIS (operational Cenre fire and rescue)."
At 10:30 am, the calls kept coming under fire.
In Seine-Maritime , rescuers performed 110 interventions for the entire department. Eure , 88 firefighters were mobilized over a hundred times as a result of this weather event, since 5am.
Thirty interventions took place in the Manche and a score in the Orne .
They mainly involved clearances trees and cables lying on the floor and flooding in private.