The Arvor Festival will not have ideal weather to start this Wednesday, 14th August 2019. We expect a very overcast sky, wind and even a few drops of rain in the Morbihan.
The wind did not calm down long. We will exceed gusts of 50km / h everywhere in the Morbihan according to Météo-Bretagne. We will see winds up to 65km/h on the coasts of Lorient and the tip of the peninsula. The sky will be very overcast with some possible rain.
As for the temperatures they go up. We note 12 ° at Allaire which will have for once the minimum up to 17 ° in Guidel for the maximums. Elsewhere it is 13 ° to Moustoir-Ac, Ploërmel, 14 ° to Pénestin and 16 ° to Arradon.
The wind is getting stronger
And the bursts will not calm down. We will reach up to 70km/h near Lorient, 65km/h at Faouët and 60km/h at Malestroit. The risks of rain will be a little more important.
Temperatures are up on the previous day but remain below seasonal norms. We will record 19 ° on Belle-Île and La Roche-Bernard and 20 ° everywhere else in the department. The maximum will be Ploërmel with 21 °.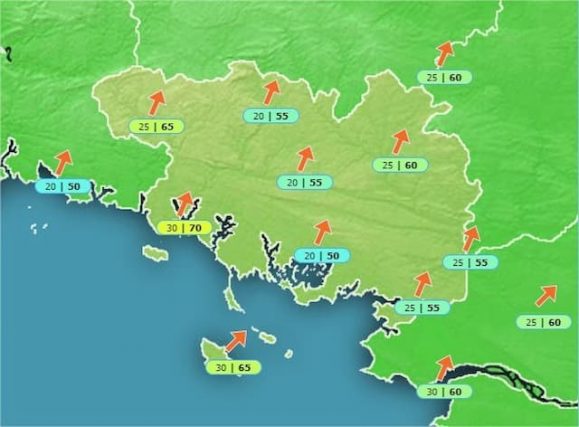 The parties of Arvor: a humid evening
The Arvor parties will not escape this risk of rain. Although it will not be heavy showers, some drizzles could disrupt tonight's concerts on the harbour. It will, however, be quite mild since we expect around 19 ° early evening.