This Friday afternoon, the services of Meteo France published a special bulletin for this weekend of 27th and 28th October 2018, announcing a time disturbed and cold. Snowfall is even expected Sunday evening in Normandy, on the Orchard hills of Perche.
Meteo France announces a disrupted and cold weekend all over France. Normandy should not be spared. Temperatures will drop from Saturday 27th October, 2018 and may drop by nearly 10 ° C in places. Winter is launching its first offensive after September and October marked by an exceptional Indian summer.
Ce week-end les températures vont baisser sensiblement avec le retour de la #neige sur l'ensemble du relief, parfois à basse altitude. Temps très perturbé également dans le Sud-Est (#Corse comprise) avec une probable aggravation lundi. pic.twitter.com/MZ2h8FNoCp

— VigiMétéoFrance (@VigiMeteoFrance) 26 October 2018
Polar air
The temperatures will not exceed 10 degrees in Normandy this weekend. The polar air has invaded the British Isles since this Friday and began to reach the Channel coast. A northeasterly wind, already present Saturday, will strengthen Sunday and accentuate this feeling of freshness.
Il semblerait que le #froid arrive par le nord ce week-end, selon les dires d'un prévisionniste croisé tout à l'heure dans la rue (il portait un bonnet).

[animation de l'altitude de l'isotherme 0°C jusqu'à samedi 8h, modèle AROME @meteofrance @meteociel] pic.twitter.com/VGQiHgUBb5

— Etienne Kapikian (@EKMeteo) 25 October 2018
Showers of hail are announced Saturday morning on the whole of Calvados and the North-west of the Orne. Rain and hail should also fall on the department of Manche, Bessin, the Côte de Nacre and the Plaine de Caen, Saturday late afternoon and early evening.
At the same time, still in the early evening of Saturday, the coastal strip of Seine-Maritime could be affected by thunderstorms.



Sunday, cover yourself well. The thermometer will not rise further. Stormy rains and showers will mark the beginning of the day, before the return of cold, dry weather in the afternoon.
Snowflakes are expected on the Perche at the beginning of the evening. Temperatures will be very low (between 3 ° C and 4 ° C). Between 1 am and 7 am Monday, some snowflakes (sometimes associated with rain) could fall in Calvados on the sectors of Aunay-sur-Odon, Vire, Conde-sur-Noireau, Falaise and Orbec, and than on the entire Orne department.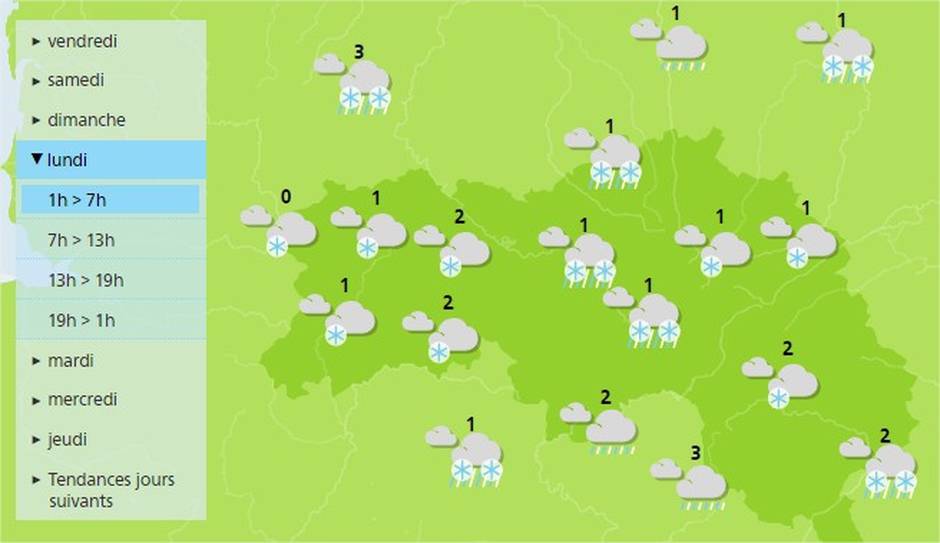 In summary, winter is coming this weekend!