Meteo France is forecasting a hailstorm event in Toulouse on Friday 16th March, 2018. The Toulouse town hall has decided to close public gardens at risk from 4 pm.
The weather will deteriorate in Toulouse . Meteo France forecasts a hail hazard from 4 pm in Toulouse, today, Friday 16th March 16, 2018. Gusts of wind at 75 km/h are also expected. A yellow alert has been issued by Météo France. According to the weather forecast, however, this episode will be short-lived since as from 7pm, only rare showers are expected.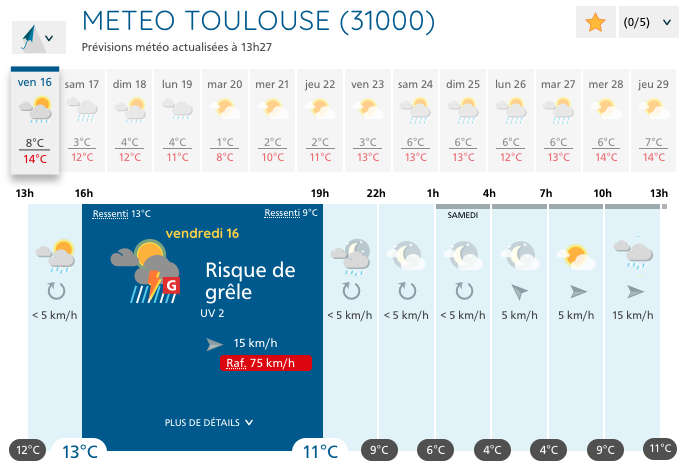 Gardens at risk closed at 4 pm
Because of this weather alert, the City of Toulouse has decided to close "the gardens at risk" from 16h.
The gardens at risk are:
Jardin des Plantes

Jardin du Grand Rond

Jardin Royal

Jardin Compans Caffarelli

Parc de Reynerie

Jardin Félix Lavit

Jardin de la Villa Merican

Jardin du Pays d'Oc

Jardin Sacarin

Parc de la Boisseraie

Jardin de Saint-Éxupery

Parc du Sacré-Cœur

Jardin Rangueil

Parc Monlong

Parc de l'Observatoire

Parc Ozenne (Croix-Daurade)
This degradation of time augurs a mixed time for the weekend, since rain is expected on Toulouse Saturday 17th March, 2018, but also for Sunday 18th March, 2018.