This time, that's it, winter is here. Zero temperatures, freezing fog, sleet and light snowflakes cover the cities, roads and countryside this Friday morning.
Cover up, if you do a little walk in white.
Ille-et-Vilaine
Surprise in some streets of Rennes this morning, residents discovered that he had fallen a few flakes during this very cold night.
#Rennes #neige #hiver #❄️ pic.twitter.com/YNPDmnTWhU

— LE GUYADER Olivia (@LgOlivia) December 30, 2016

Snow was also reported south of Rennes, for example Janzé:
Mayenne
Surprise, Friday morning in Laval. Freezing fog that exists everywhere in the department created a thin white layer in the city.
According to our users, the phenomenon does not affect the entire city but only the north western districts, including that of the station.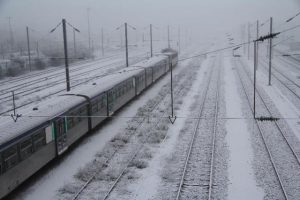 Nevertheless, caution in the streets and on the roads: traffic conditions are tricky.
Because it was cold in the night from Thursday to Friday in Mayenne, as low as – 4 degrees in the morning at the meteorological station of Laval Entrammes Airport.
Loire Atlantique
Friday morning at Saint-Nazaire , temperatures around -3 degrees whitened the landscape. Caution is advised on the frosty roads.
And north of Nantes, at La Chapelle-sur-Erdre awoke under a thin white coat.
Maine-et-Loire
It's also all white on some areas of the department, as the heights of Angers . But it is not snow but ice. This changes nothing for the movement: beware of slippery roads!
Manche
Since that night, patches of ice are reported to the Cotentin Manche Centre .
Traffic remains difficult in the towns of Villedieu-les-Poêles, Coutances, Saint Lo, Les Pieux, Valognes, Carentan, La Haye-du-Puits and the secondary network.
Temperatures approached -6 ° C this morning.