ENVIRONMENT: 
Lille again beat a heat record on the 14th September, but particulate pollution accumulates …
This is an additional summer day in the Hauts-de-France on Thursday. The opportunity to eat one last time on the terrace? Better to think twice, because the particle pollution levels have followed the rise of the thermometer, particularly in the north.
Non, non, ce n'est pas la météo du @le_gorafi !!! https://t.co/HjMFXh3tJU

— Thomas Levivier (@thomaslevivier) 15 September 2016
Officially, the agency SFX Nord-Pas-de-Calais yet announced for this Thursday 15 September, an "air quality" of 5 on a scale of 10 (10 being the highest pollution index).
However the measures this morning are final. In Valenciennes, Lille and Dunkirk in the rate of fine particle pollution has exceeded the statutory threshold of 50 micrograms per cubic meter of air (mg / m³) at 5 am.
The daily average may exceed the standard Thursday
These are one-off measures. By moving average, over 24 hours, concentrations of particles remained yesterday under the regulatory limit of 50 mg / m³, whose crossing triggers a first alert level.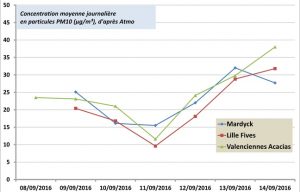 However the weak wind expected today, and the late arrival of degradation southwest of Hauts-de-France, could favour the accumulation of particles in the atmosphere throughout the day.
That just spoils the beautiful weather week Lille. Especially yesterday, September 14, a new record heat was narrowly defeated with 30.3 ° C recorded around 17h against … 30.2 ° C, September 14, 1962.