Shortly before noon, Monday 11th November 2019, an earthquake occurred in the Drôme was felt from Lyon to Montpellier without causing major damage.
Four people were wounded, one of them seriously, in a strong earthquake on Monday 11th November 2019 shortly before noon near Montélimar (Drôme), and felt from Lyon to Montpellier without causing major damage.
An earthquake of magnitude 5.4 on the Richter scale occurred in Ardèche, "26km southeast of Privas", possibly near the Teil, at 11:52, said in a statement the Central Bureau seismologic English (BCSF) of Strasbourg.



Fall of a scaffold
It was felt mainly in the Drôme and Ardèche, especially in the vicinity of Montélimar where a person was seriously injured in the fall of a scaffolding, according to the prefecture of the Drôme.
Three other people were slightly injured in Ardèche "following a panic attack," said on Twitter the prefect of this department who asked the inhabitants of Teil (Ardeche) to "stay for the moment outside the homes".
Une forte secousse a été ressentie ce matin de #lyon jusqu'à #marseille.
Merci de suivre les informations des différentes autorités ou services d'urgences.
☎ Ne saturez pas les lignes d'urgences sauf en cas de nécessité. pic.twitter.com/ZEdycIvvos

— VISOV | #MSGU (@VISOV1) November 11, 2019

The mayor of this city, bordering Montelimar, has opened three gyms for its citizens, added the prefect.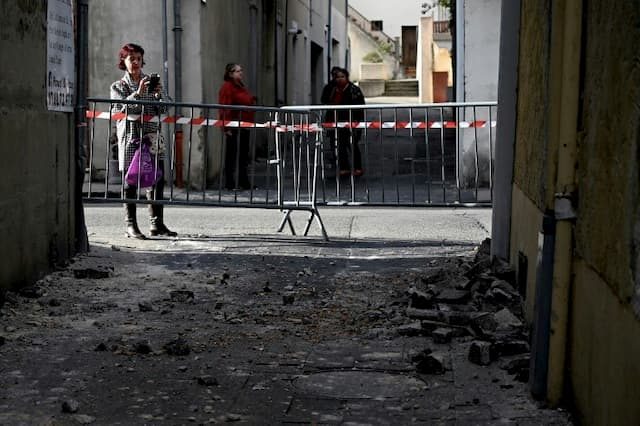 "It lasted five seconds"
"It lasted five seconds, everything shook around me, the furniture, the walls, as if a plane had crashed to 800 meters or a big explosion," testified to AFP Kevin Cuer, a resident of the 4th floor of a Montélimar building.
According to him "everyone went out in the street after the tremor, people were very scared, we said to ourselves + as long as it stops quickly +".
"No major damage has been identified at this stage in the department," nor on all nuclear facilities Tricastin, confirmed in a statement the prefecture of Drôme.
#Séisme en Drôme Ardèche : pas de dégâts majeurs ont été recensés à ce stade en Drôme. La situation actuelle ne nécessite aucune précaution particulière, sauf décision contraire des autorités locales. Le @sdis26 reste mobilisé sur le terrain et en renfort du @SDISPompiers07. pic.twitter.com/kiWbDUGCnL

— Préfet de la Drôme (@Prefet26) November 11, 2019
The services of the SDIS "currently perform about fifteen interventions to check the condition of buildings and chimneys reported to have suffered minor damage," she also said.
"Cotton legs"
"The earth trembled in Montelimar. A priori no injury is to be deplored, "tweeted the mayor of the city, Franck Reynier. "There would be no damage. No firefighting intervention was necessary, "he added, calling on the public not to overload the emergency call services. "We will keep you informed as and when," he concluded.
La Terre a tremblé à MONTÉLIMAR. A priori aucun blessé n'est à déplorer. Il n'y aurait pas de dégâts. Aucune intervention de pompiers n'a été nécessaire. Ne saturez pas les services d'urgences d'appels. Nous vous tiendrons informés au fur et à mesure. #TremblementDeTerre

— Franck Reynier (@FranckReynier) November 11, 2019
"I felt my legs tremble, I felt like I was going to fall, my legs were cotton, I sat down and I understood that there had been an earthquake", testified from AFP Nathalie Lefèvre, resident of Vallon Pont d'Arc, in the Ardèche.
Rare intensity in the region
"I was leaning against the oven of my mother's bakery when I felt it tremble. The cabinet of a client moved and all her dishes were broken, "said Victoria Brielle, a resident of Privas.
The jolt, of rare intensity in the region, was also felt until Saint-Etienne, Lyon, and even in the south of France, said witnesses to AFP.
"I was lying in front of my computer on my bed when I felt a big noise behind the partition of the apartment, the furniture moved, my wife in the next room felt like walking on a gateway, "said AFP Bertrand Maigre, living on the 5th floor of a building in the 6th arrondissement of Lyon.
La préfecture demande aux habitants du Teil de rester à l'extérieur des habitations!#tremblementdeterre #montelimar #11Novembre pic.twitter.com/bH7P8WEUuk

— Nina (@ninanina93444) November 11, 2019
Feeled several minutes later
"The dog barked before the tremor", also testified to the AFP Didier Lévy, who lives in a fifteenth century castle in Lamotte-du-Rhône (Vaucluse). "This is the first time I've seen this, I felt the shock when our walls are one meter thick," he added. Several minutes after the tremor, "the chandeliers were still moving," he assured.
After the quake, firefighters in Vaucluse received "about fifty calls mainly from municipalities located in the north of the department, including Bollene and Valréas," said a spokesman to AFP.