The weather will be changeable this week in Morbihan. A small disturbance will pass in the north of the department before giving way to sunshine Wednesday.
A weather in Morbihan a little mixed. Wednesday, May 22 will be the most beautiful day of the week with showers Thursday.
This Monday 20th May, the sky is changing. Inland towards Pontivy, the weather is rainy. But the further down to the coast, the sky emerges and gives way to the sun according to Météo France.
For the temperatures, it will always be very good. It is expected 16 degrees at Lanester, 18 degrees at Muzillac and up to 19 degrees at Ploërmel.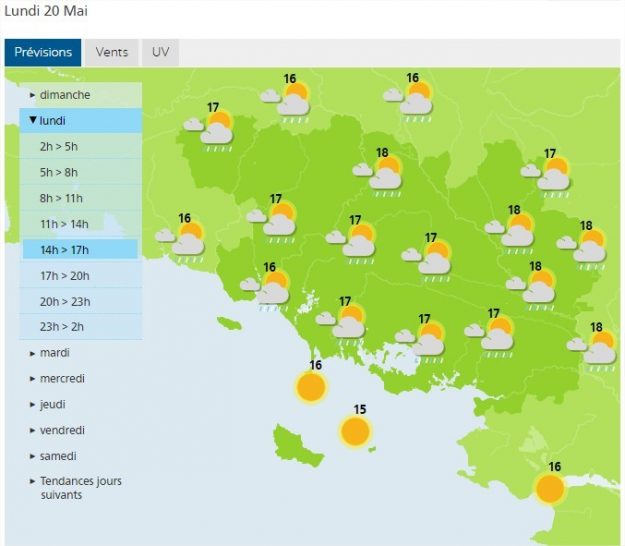 An anticyclone protects the ribs
Tuesday's weather should be similar to the day before. The weather will be a little less gloomy in the land especially in the morning. Rare showers may appear in the afternoon. The sky will be clear on the coasts and islands thanks to an anticyclone in the Atlantic.
Temperatures rise again: one counts 19 degrees for the maximums in Baud and until 21 degrees towards Malestroit.
A mild and sunny Wednesday
This Wednesday will be the most beautiful day of the week. A little veiled sky will not threaten the department. The clouds will accumulate little by little in the evening to announce the disturbance of the next day.
Temperatures are climbing again and again. We expect 20 degrees at Le Faouet, 22 degrees at Locmine and 23 degrees at Penestin.
Beginning of a disruption on Thursday
The anticyclone is leaving and a disturbance is coming. She will cross Morbihan this Thursday 24th May. It will not be very strong, with fine rains but it will last all day and install a cloudy sky that should remain all weekend.
The temperatures come down a bit. We expect 19 degrees in Josselin and 20 degrees in Carnac,