A few snow showers are expected in Toulouse and in the region, for the night of Monday to Tuesday, 6th January 2018. An update on the weather forecast in Occitanie.
There will not (yet) avalanche on the descent of Pech David, but some snowfall are indeed expected in Toulouse,  in the night of Monday 5th to Tuesday 6th January, 2018.
late night in the flakes on Toulouse
If the "snow level is currently quite high, it will lower slowly to the ground late next night," tells News Toulouse  Patrick Chartier, forecaster at Meteo France at Blagnac. It states that " low precipitation are expected in the night, until mid-morning on Tuesday morning in Toulouse."
Attention : chutes de neige en vue jusqu'en plaine toulousaine mardi 6 février en fin de nuit et début de matinée !

— Pascal Boureau (@pboureau31) February 4, 2018
Temperatures will therefore continue to fall, Tuesdays, with minimal to -1 to 0 ° C and maximum 5 ° C in Toulouse. According to Patrick Chartier , the expected accumulation is minimal:
"In quantity level, it will remain very low: 1 to 2 centimeters in plain, as in Toulouse.  The snow that falls will not be held in Toulouse , as the temperatures will not be too cold, positive and passed by mid-morning. But it could  whiten the hills in the town, and especially make slippery, as this will be very oily snow."
Also according to Meteo France, which distills his "advice caution in the early morning on the roads", the precipitation should "stop on Toulouse during the morning, and in plain midday." And the thin layer that had covered the hillsides should fade as quickly as it arrived …
#Vigilanceorange Un épisode de #neige notable est attendu demain mardi des pays de Loire à l'île de France et aux ardennes. #verglas possible dans le Nord-Est demain matin.
restez informés ▶ https://t.co/KA0Ij27Eea pic.twitter.com/9jjUuWnva0

— VigiMétéoFrance (@VigiMeteoFrance) February 5, 2018
From the Pyrenees to the Black Mountain



Elsewhere in Occitan, Meteo France also forecasts for "insignificant amounts, about 2 to 3 cm on the Pyrenean foothills,  5-8 centimeters above 1,200 meters in the Pyrenees. It will go to over 1 800 meters, for a cumulative of 10 centimeters. " In plain, the same story at Toulouse is announced in the Gers, the Hautes-Pyrénées , the Lot , the Tarn,  the Ariege and  the Aude.
More rain is expected on the foothills of the Massif Central, the Black Mountain and the Cevennes, in the Tarn , especially in  the Aveyron, classified orange alert, and Lozère.
No flakes on the horizon however, for the Mediterranean plains, in the Herault, the Gard and Pyrénées-Orientales.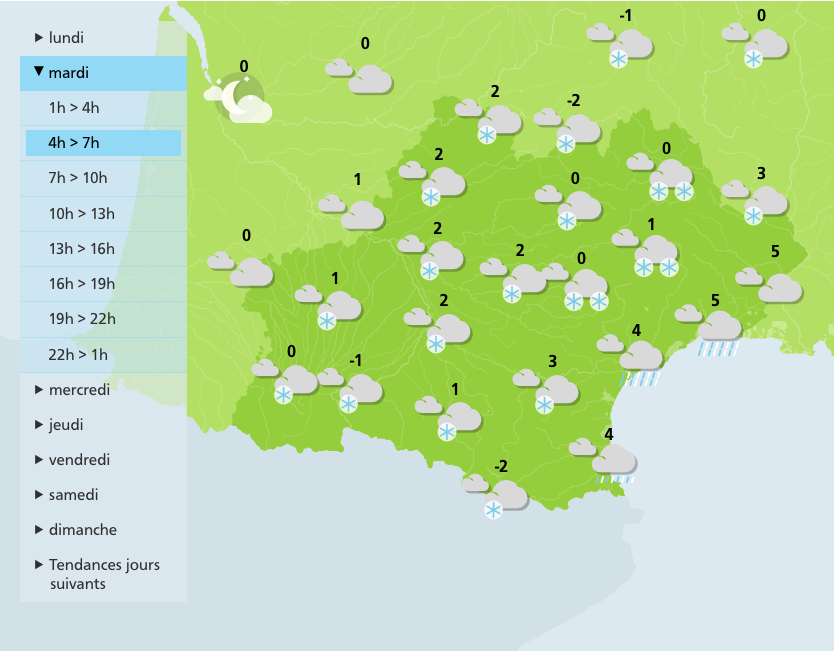 Same weather over the next few days
In the coming days, Meteo France provides the same kind of time, "relatively cold" since "minimum temperatures are announced around 0 ° C, Wednesday, Thursday and Friday. Patrick Chartier states that " few flakes could fly again on Wednesday morning ."