Meteo France has placed this Tuesday afternoon nine departments of the south of France in orange alert for snow and ice
Three-quarters of the country are now under the Cold weather plan: authorities and associations are on alert in France this Tuesday 27th February, 2018, the day that promises to be the coldest of this winter, with a priority, sheltering the homeless .
"If I can ask a service to the French, it is to call the 115 (the number of the Samu social, Ed) when they see a person in the street because it does not necessarily have (e) reflex", launched Minister of Health Agnès Buzyn.
"Today is intolerable to see people sleep on the street. Many requisitions (additional sites for emergency accommodation) have been made for this week, and it is imperative to guide these people via the 115."
On Monday evening, the Ministry of Social Cohesion decided to increase the number of departments involved in the Great Cold Plan from 37 to 68, with the creation of some 5,300 additional places for the homeless, including 1,750 Paris.
The snow will fall again tomorrow in the south of France and will go back to the north. To follow the progress of this snow disturbance ➡️ https://t.co/3nxgMOeMDP pic.twitter.com/cFYKYNjct5

– The Weather Channel (@lachainemeteo) February 27, 2018
Generalized frosts
The frosts were to remain almost generalised Tuesday on a large part of the territory with temperatures not exceeding -4 to zero degrees in plain. Tuesday afternoon, Météo France has placed nine departments in orange alert for snow and ice .
"The snow episode is significant enough to cause traffic difficulties and disrupt certain economic activities," forecasters predict.
The phenomenon will concern these departments:
Alpes-Maritimes.
Aveyron.
Gard.
Hérault.
Country.
Lozere.
Pyrénées-Atlantiques.
Tarn.
Where.
Note that a large part of France is still vigilant yellow cold with very cold temperatures expected for Wednesday morning, the same order as those observed on Tuesday morning.
Seen from space || The dry, icy air descended from Siberia is not conducive to cloud formation. It is only after loading in moisture on the Atlantic that the mass of air can give rise to stratocumulus lines (Satellite SUOMI-NPP at 2:34 on 27/02/2018) pic.twitter.com / dXcC8P7n9u

– Météo-France (@meteofrance) February 27, 2018
Three dead
This cold snap has caused in France the death of at least three people since Sunday. A homeless 53-year-old is still dead Monday afternoon in a field in Grésy-sur-Aix (Savoie), while the thermometer showed -3 to -4 degrees.
An icy cold wind from Siberia has hit a large part of Europe since Sunday afternoon, with temperatures dropping to -10 ° C and -18 ° C in "felt" leeward.
Like many other cities in France, in Strasbourg, where mercury showed -7 degrees in the night from Monday to Tuesday with up to -12 degrees felt, the charities, Red Cross and Restos du Coeur, provide night maraudes .
With one goal: to identify the homeless and offer them accommodation in a home or gym.
"Soup and coffee are a pretext to meet people. Objective 1 is to be a social link with those who sleep outside, "says Gaëlle, 32, a volunteer at the Restos du coeur.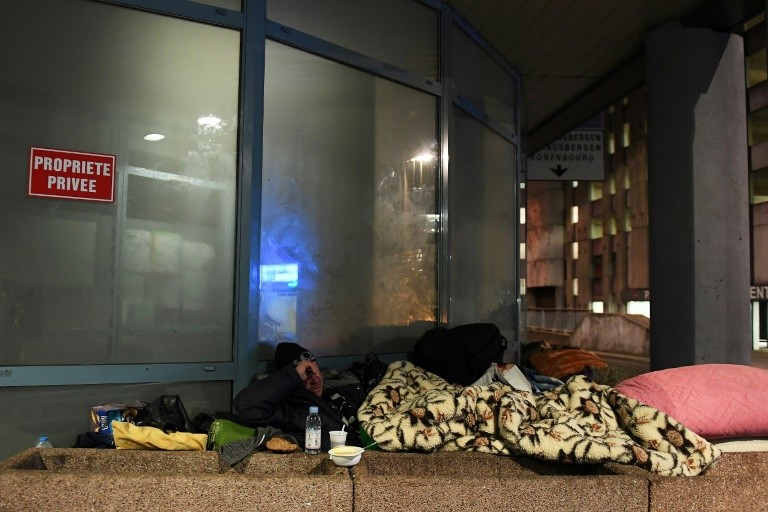 Ajaccio under the snow
And the flakes could take over with the softening expected at the end of the week.
After snowfall on Bastia Monday, the bay of Ajaccio woke up under a white coat, unprecedented since 1986, according to Météo France.
#Neige A #Ajaccio , we found 13 cm at 7 o'clock in the morning, the biggest thickness since the 25 cm of February 10, 1986! pic.twitter.com/Xs0h3aI7K8

– Météo-France (@meteofrance) February 27, 2018
As a result, flights to and from Ajaccio and Figari were suspended.
On Monday already, in Nice, big flakes had already sprinkled the famous Promenade des Anglais and its beach.
On the energy front, nuclear power plants remain in great demand. In the Drôme region, EDF decided to postpone the maintenance visit to the Tricastin plant's production unit no. 4, which was scheduled to start last Saturday, due to the cold snap.
"The availability of the Tricastin power plant, which contributes 6% to the production of electricity from French nuclear power, is essential," said EDF, hinting that the energy situation was tense.
After a month of historically mild January and a snowy beginning of February, this episode of cold is striking because of its late character. France had not experienced such a cold snap at this time of year since 2005.
Meteo France is now forecasting a "brutal" mildness this weekend in the South which should gradually spread over the rest of the country before a spring weekend.
Far from being confined to the French borders, this wave of cold that the specialists have designated as the "Moscow-Paris phenomenon" has swept across Europe, killing at least ten people for three days.