A major fire is underway Thursday afternoon in the mansion of the tower of Cesson in Saint-Brieuc. 

The building is completely destroyed by fire. Significant resources have been triggered by the fire department. This fire was arson.

The mansion next to the Tower of Cesson erected by Alexandre Glais-Bizoin the middle of the XIX th  century was destroyed by fire Thursday. The fire started in the middle of the afternoon in the building that is part of the history of the city of Saint-Brieuc, but that was squatted for many months. The City has initiated a safeguard procedure in order to own this area of 9 hectares, to rehabilitate. It is very close to the expropriation.
Feu tout Cesson pic.twitter.com/tKNgR46Bj3

— JCL (@lanoejc) January 25, 2018
 visible plume for kilometres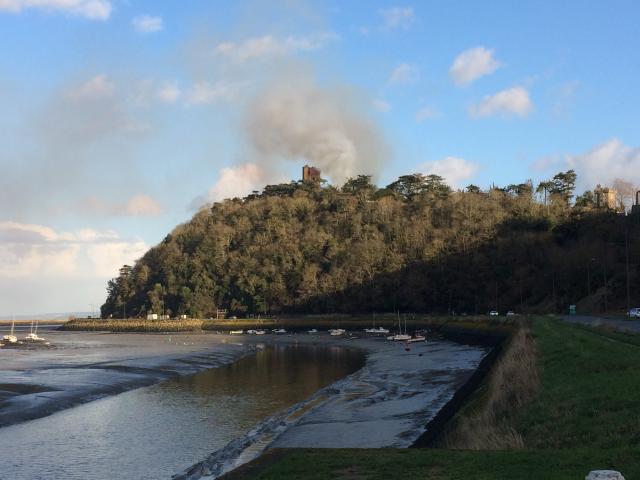 Firefighters have triggered significant resources: about fifteen men, two fire engines and wide. The operation is still ongoing. They took the decision to let the building burn to avoid risks. They monitor the surroundings to prevent the spread in lush vegetation.



The plume of smoke is visible for kilometres around, from the deck of Armor Saint-Brieuc. But also at sea. This area overlooks the harbour entrance Légué and the bay of Saint-Brieuc. Firefighters also receive many calls to 18 people alerted by the thick smoke that emerges.
The Tower of Cesson was spared by the disaster.
Fire started by arson
The fire was of criminal origin. Firefighters and police officers found at least two places where the fire had been started. According to our information, young juvenile arrests have taken place close to the field. This mansion was a squat for a long time previously. The technical and scientific police arrived on site to make findings.
A very strong emotion
As evidenced by this tweet from the chief of staff of the mayor of Saint-Brieuc, the emotion is intense in Saint-Brieuc. This building was part of the heritage of the city.
Un pan entier de l'histoire de @VilledeStBrieuc part en fumée.
Journée noire, émotion vive. pic.twitter.com/OXHQ8hreh1

— Corentin POILBOUT ???? (@CPoilbout) January 25, 2018
The mayor Marie-Claire Diouron went there. It was alpaguée by residents angry to see this historic place and squatted in smoke.
Très choquant d'apprendre que le domaine de la Tour de Cesson est en ce moment en feu ! Horrible de voir cela !!! Au moment ou la ville est en pleine discussion pour récupérer ce site historique. J'en reviens pas de voir cela ! HORRIBLE !https://t.co/If2FkzQA15

— lesterresfroides (@terresfroides22) January 25, 2018