Meteo France placed 36 departments in yellow alert for snow and ice including those of the Lorraine Region. On the Vosges, more than 50 centimetres of snow have already fallen on Monday.
Meteo France placed, from 4pm this Tuesday 28th November until Wednesday afternoon, 36 departments in yellow alert for "snow and ice" including the east part of the north, Burgundy, Franche Comté, Rhône-Alpes and Auvergne or even southern Corsica and part of Brittany and Normandy .
In the Grand Est region, nine of ten departments are on yellow alert : Moselle, Meurthe-et-Moselle, Meuse, the Vosges and the Lower Rhine, the Ardennes, Marne and Haute-Marne. Only Dawn is not yet the subject of particular attention.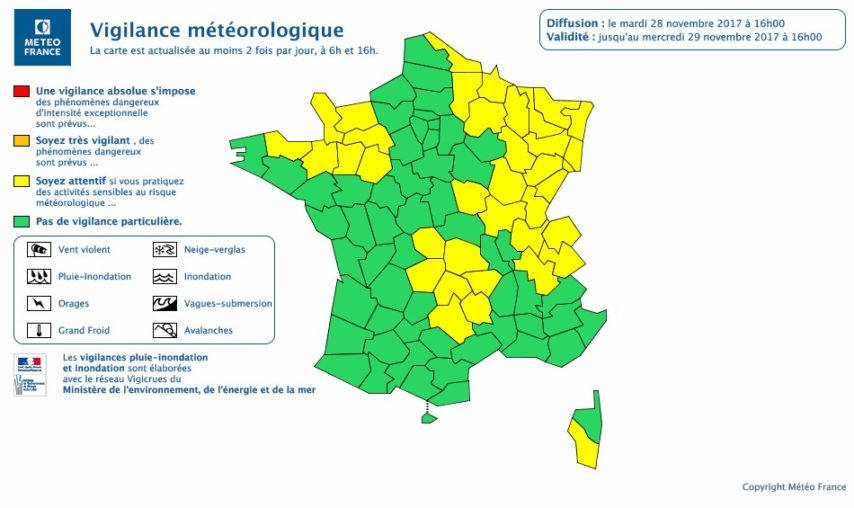 First snow offensive scheduled for Friday
Note that the departments of Moselle and Meuse are also placed in yellow flood alert . Significant rains of the last few hours causing major flooding on some rivers.
According to forecasts from Météo France on Wednesday, "the time will be covered throughout the day in the Northeast, with a time of snowfall that can give a few centimeters plain ground."
But the real first offensive of winter in the plains is scheduled for Thursday 30th December to Saturday 2nd December in the evening.
#Neige en plaine : Comment se forme la #neige ? Comment la prévoir ? ❄????Notre dossier à lire ici : https://t.co/R64szWQdeE pic.twitter.com/fYyVoILrNf

— Météo-France (@meteofrance) November 28, 2017
More than 50 centimetres in the Vosges tonight



According to Etienne Kapikian, forecaster engineer at Meteo France, the "snow will keep sustainable in massive" including Vosges. Although plain snow forecasts are "difficult to predict accurately, more one goes eastward, more snow may stick to the ground, especially in cities like Nancy and Besançon."
In the Vosges, it has snowed 50 centimetres in the night of Monday to Tuesday including La Bresse or the Refuge Sotré in Xonrupt-Longemer. By midweek, more than 70 centimetres of powder snow could fall on the Vosges mountains. Snowdrifts of 1m20 could form and the roads are snowy especially in the hills.
Plus de 50 centimètres de #neige et des congères d'1m20 cette nuit au Refuge du Sotré à Xonrupt-Longemer sur le massif des #Vosges pic.twitter.com/nrrSUxpFeR

— Lorraine-Actu (@LorraineActu) November 28, 2017