An earthquake of magnitude 4 was recorded on the night of Monday 6th to Tuesday 7th August 2018 in the Pyrenees, according to the French central bureau of seismic activity. 

The inhabitants felt it.

The earth trembled in the night of Monday 6 to Tuesday 7 August 2018, in the Pyrenees . According to the site franceseisme.fr , published by the BCSF (Bureau national seismologique français) an earthquake of magnitude 4 on the Richter scale was indeed recorded at 22:49. It should be noted that the  Renass (National Seismic Surveillance Network) initially reported only an earthquake of magnitude 3.5. Still, such an earthquake generates a "moderate" human perception according to the BCSF, whose map of the phenomenon of the night relies on some 132 testimonials.
06/08/2018 FRANCE – #TremblementDeTerre Magnitude 4https://t.co/RxaqvpPRE5

— FranceSeisme (@FranceSeisme) 6 August 2018
Felt in Haute-Garonne
The epicenter was located 16 km east of Bagneres-de-Bigorre, near Sarrancolin (Hautes-Pyrenees), between Lannemezan and Saint-Lary. On the social networks, Internet users ensure that the earthquake was felt until Bagnères-de-Luchon , Haute-Garonne. It was even at Luchon that the most reports were sent  to the BCSF.
La terre a trembler ce soir dans les Pyrénées. Secousses ressenties à Luchon. 3,5 sur l'échelle de Richter, épicentre du côté de Sarrencolin @France3MidiPy @Pireneus_Radio @Meteo_Pyrenees

— Le Neum's ™ (@Le_Neums) 6 August 2018
ohoh je crois qu'on vient de subir un petit séisme ⚠👀

— Valé (@vale_cmg) 6 August 2018
Tremblement de terre de 3,5 chez moi dans les Pyrénées… mais qu'est ce que ça doit donner les niveaux les plus hauts…j'ai eu peur rien qu'avec ces 2 petits… #courageusemaispastemeraire #poulemouillee

— Audrey B. (@MissAudreyBoo) 6 August 2018
Y'a eu un tremblement de terre dans les Pyrénées rassurez moi c'est pas mon immeuble qui s'écroule ? #Pyrénées #tremblementsdeterre

— fifi👧🏻 (@f_skmg) 6 August 2018
#Midi-Pyrénées #double #tremblement
J'ai ressenti le double tremblement de terre aujourd'hui vers ~22h55 dans les Hautes-Pyrénées

— ROBIWOOD (@ROBIWOODYTB) 6 August 2018
Tremblement de terre à l'instant à Borderes Louron

— JJBOLZAN (@JJBolzan) 6 August 2018
What the residents really felt
This earthquake did not cause any injuries or damage, but it still aroused reactions in the region. These CBSF cards testify to what the residents really felt.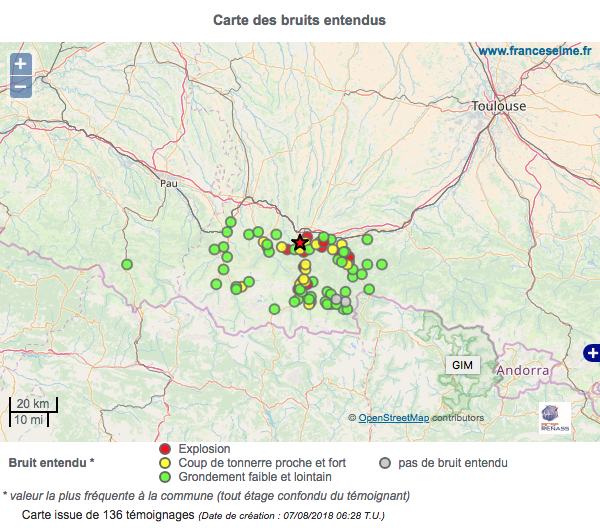 Two more earthquakes in the night



A second earthquake, much lighter  (of magnitude 1.4, was then increased to 0:01 in the Pyrenees. This time, the epicenter was between Saint-Lary and the Spanish border. Note finally a third earthquake was recorded this night in Occitania: in the Massif Central this time, near Séverac-le-Château (Aveyron), where magnitude 2.9 earthquake was reported at 22:49, thirty seconds after the first earthquake of Pyrenees.