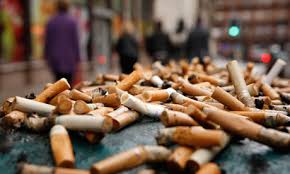 Later this year, Paris is going to be almost doubling fines for dropping cigarette butts as it is faced with having to collect around 350 tonnes of them each year.
The current fine is €35 but as of September, this is going to be increased to €68.
The fine, doesn't just apply to smokers who are making a mess with cigarette butts, as it is a fine that applies to anyone who is dirtying the streets generally, including letting dogs poop on them, people urinating in the street or just simply dropping litter.
30,000 new bins being installed
The new measures will be brought in over the next few weeks, the Mairie says, but fines for smokers dropping cigarette butts will not be enforced for the moment as the council are in the process of installing approximately 30,000 new bins equipped with a facility for their safe disposal.
Currently fines for dropping cigarette butts are rarely enforced, and they tend to just fine people for the more serious offences, although perhaps this is a warning that they will be cracking down later in the year.
Last year there were 25,461 fines related to dirtying the streets, but they were mostly for other things: 11,248 concerned people putting out their bins too early or leaving them out too long after rubbish collection, 2,507 were for dog poop and 2,189 were for 'pouring out urine'.
Other districts in the capital and probably other large metropolitan areas will no doubt follow suiit if the initiative in Paris proves successful, with already in a separate initiative the Mairie of the 9th arrondissement has put out cigarette butt collection boxes. A company will recycle them into boards that can be used in the building industry.