A Belgian fighter plane crashed in Pluvigner (Morbihan) on Thursday 19th September 2019, at 10.30am. The two pilots are alive.
At 10:30, Thursday, September 19, 2019, a Belgian fighter crashed between Landaul and Pluvigner (Morbihan), on the RD 16, at a place called Le Poteau. The road is currently closed to traffic. Both pilots had time to eject. They are alive.
The plane crashes on a house
The crash of this F16 aircraft occurred while he was in exercise. Firefighters are currently on site. Contacted, the mayor of the municipality of Pluvigner, Gérard Pillet evokes "a breakdown of the engine" at the origin of the accident.
Soulagé de savoir nos deux pilotes @BeAirForce sains et saufs après le crash de notre F16 et qu'aucune victime au sol ne soit à déplorer. @BelgiumDefense prend soin d'eux et de leur famille. Une enquête est en cours.

— didier reynders (@dreynders) 19 September 2019

The elected official pointed out that "the plane crashed on a part of a house in which there were no injuries. He crashed into a cornfield. The tip of the plane penetrated one meter into the ground.
The pilots ejected
On Twitter, the Belgian Air Force reports that the two pilots ejected from the plane.
NEWS @BeAirForce
– un de nos F16 s'est écrasé près de Lorient en France. Les pilotes ont quitté l'avion avec leurs sieges éjectables.

— Belgian Air Force🇧🇪 (@BeAirForce) 19 September 2019
The prefecture of Morbihan adds in a statement that the two pilots are alive. EDF agents intervened to cut electricity. Firefighters then deployed a gondola to rescue one of the two pilots suspended about 15 m high after his parachute caught on a high-voltage line. He stayed nearly an hour in the air.
UPDATE accident aérien @BeAirForce – Le #F16 FB18 a été mis en service en 1983. Il a été complètement modernisé selon les normes MLU. L'avion a été entretenu méticuleusement selon les schémas du constructeur. L'enquête sur la cause vient de commencer.

— Belgian Air Force🇧🇪 (@BeAirForce) 19 September 2019

We heard a big boom
On a construction site, near the accident site, workers with noise-canceling helmets "heard a big boom as if something were falling apart. We were afraid it would come from our yard.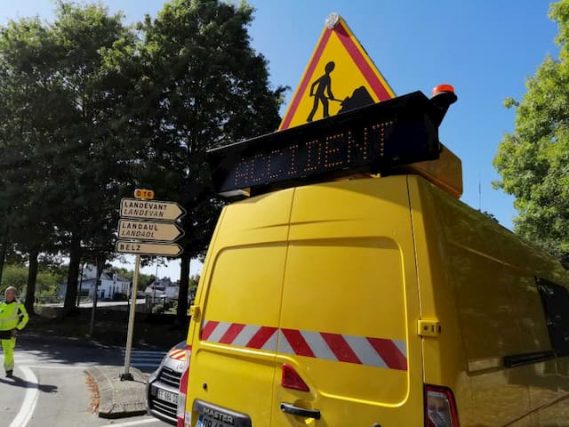 A crisis unit set up
A crisis unit was set up by the prefecture, which states that "this F-16 type device was not armed and its loading is under expertise. "
"This plane had taken off from Florennes (Belgium) and was going to the Lann-Bihoué Naval Air Base."
A 500m security perimeter was deployed around the crash site. The soldiers of the departmental gendarmerie group of Morbihan are on site to secure the area. 40 firefighters and 20 rescue vehicles of the SDIS of Morbihan are currently mobilized.
The prefecture invites the public to "respect this perimeter of security" in which research is underway to find any debris of the aircraft.