Halftone day for the French at Roland Garros, Wednesday 29th May. If it goes for Mahut and Moutet, Tsonga and Gasquet leave the tournament.
The best-known French heads soon left the party, but surprise guests replace them at Roland-Garros : Jo-Wilfried Tsonga and Richard Gasquet were eclipsed in the second round on Wednesday, unlike veteran Nicolas Mahut and hope Corentin Moutet .
Rafael Nadal and Roger Federer have gone through them in a gust of wind.
.@RafaelNadal peut serrer le point 👊

Le tenant du titre s'impose de nouveau sans concéder un set ! Victoire 6-1, 6-2, 6-4 face à l'Allemand Yannick Maden.#RG19 pic.twitter.com/3Oeh2MORLF

— Roland-Garros (@rolandgarros) 29 May 2019
Tsonga and Gasquet are already disappearing
In the space of less than thirty minutes, Roland Garros said goodbye to two of the "neo-Musketeers" thirty, Richard Gasquet (39th) and Jo-Wilfried Tsonga, ex-N.5 world today 85th.
The first, back on the circuit since early May only after six months out of play and a painful operation of an inguinal hernia in January, did not hold the pace against the Argentine Juan Ignacio Londero (78th), winner 6 -2, 3-6, 6-3, 6-4.
"I missed a bit of everything, matches, physics, legs … Nothing surprising," summarises Gasquet.
"It's been a little more than three weeks that I took again and I'm already happy to be there, to make four sets. It does not move so badly."
#RG19 Juan Ignacio Londero élimine Richard Gasquet en quatre sets… terrible déception pour le Français !#RG2019 #RG #RolandGarros

➡ Suivez les rencontres en direct : https://t.co/qp2vibz9Yd pic.twitter.com/p3HwivLmlL

— France tv sport (@francetvsport) 29 May 2019
"For a good while, I'm doing the same."
The second did not deserve, on the contrary, against the N.7 world, Kei Nishikori (4-6, 6-4, 6-4, 6-4): he first reversed the situation in the first set after taking a late break, then he counted a break ahead in the third (2-0) and fourth innings (3-0). But the Japanese has managed to cope.
"I was waiting for that kind of match against a confirmed player, top 5-top 10 to see where I was. For a good while, I'm playing match. It's nice to have only small details to settle to fight with this kind of player, "said Tsonga, in pursuit of his best level after a largely truncated 2018 season, the fault in his left knee operated and recalcitrant.
Mahut and Moutet surprise guests
As often with Mahut, it ended in tears, with joy in this case, with his son in arms: after going two sets back in the first round (against Cecchinato), he left no chance Philipp Kohlschreiber of Germany (54), dominated 6-3, 6-3, 6-3.
Here is the 37-year-old Angevin, former top 40 dropped to 252nd place worldwide and beneficiary of an invitation, which equals his best result on clay Paris (2012 and 2015), he wonders lately on following his career in singles.
And to say that before Roland Garros, Mahut had not won a single match on the main circuit for nine months (first round of the US Open 2018 end of August) and he remained on a series of six defeats on ocher !
The other surprise came early in the day of the court N.7: Moutet, 20 years old and 110th in the world, offered him his very first third round in Grand Slam disorienting (6-3, 6-1, 2 -6, 7-5) the Argentinian Guido Pella (23rd). "Hero of the day," greeted Lucas Pouille on social networks.
After the defeats of Kristina Mladenovic (53) and the youngest Diane Parry, 16 years old and 457th worldwide, there is only one French left in the race, the No.1 Caroline Garcia, opposite the Russian Anna Blinkova (117th ) for his second match on Thursday.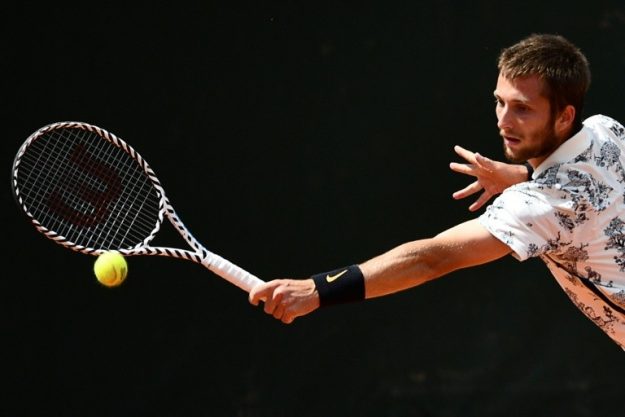 VIPs do not drag on
Six games dropped in the first round, seven in the second: opposed to a German qualifier, as Monday, Rafael Nadal has dismissed Yannick Maden (6-1, 6-2, 6-4) in a little over two hours on the court Suzanne -Lenglen.
Scheduled him on the Central Court, Federer was faster: he sent the lucky German loser Oscar Otte in just over an hour and a half (6-4, 6-3, 6-4).
For a place in the round of 16, they will face respectively Belgian David Goffin (27th) and young Norwegian Casper Ruud (20, 63rd), for the first time at such a grand slam party.
The young Greek Stefanos Tsitsipas, N.6 world and outsider for the title, has dropped a set and grazed the three hours of the match (4-6, 6-0, 6-3, 7-5) against the Bolivian Hugo Dellien (86th) in 2:49.
Surprise in the women's table with the abandonment after four games of one of the contenders to the trophy, the world N.4 Kiki Bertens. Visibly ill, the Dutch girl mimed the doctor who came to his bedside feeling shaky. World No.2 Karolina Pliskova and outgoing finalist Sloane Stephens (N.7) of the United States, have rallied to the third round without delay.