On the menu in Normandy this weekend of April 14th and 15th, 2018, a true mix of the weather! 
Showers, sunshine and thunderstorms will orchestrate a weather broom well in season.
The weekend of Saturday 14th and Sunday 15th April 2018 , there will be something for everyone! The temperatures will not fall, but the heavens themselves, will offer a rather complete meteorological panel across Normandy.  Rain, thunderstorms, sun are scheduled in the program. Courage, summer is coming soon!
A wet and stormy Saturday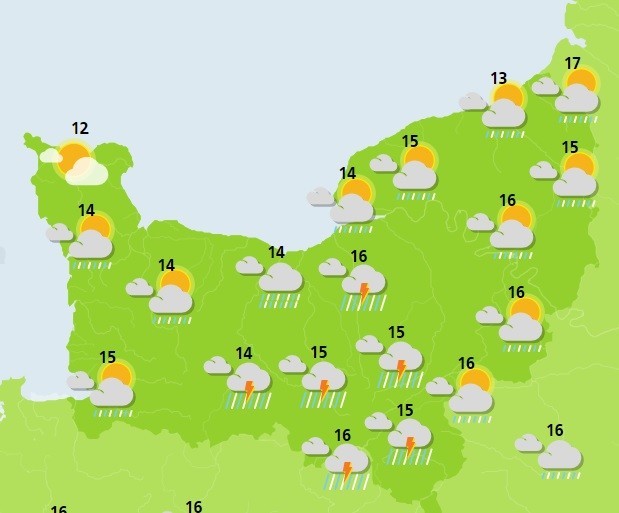 At the beginning of the day, Saturday, April 14, 2018, a stormy band should hit the Calvados and Orne . The sky will be gray and showers will be present. The Manche , Seine-Maritime and Eure will escape stormy risks and should even see the sun. Risks of showers are still considered by meteorologists in these three departments.
The stormy band will thicken in the day of Saturday and should reach the Eure as well as the north-west of Seine-Maritime .The inhabitants of the north of the Channel , as well as the east of Normandy , should listen to the heavens scolding without however scooping the rain that goes with it. Temperature side, the mercury remains faithful to the temperatures of the past week, between 13 and 16 ° C.
A half-hearted Sunday
There, there is no procrastination. Sunday morning, all Normandy will be plunged into the gray. The rains, scattered, will spare none of the five departments of Normandy.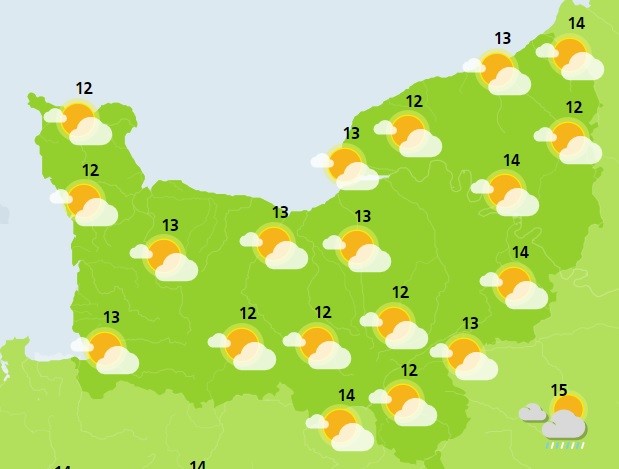 If the morning is announced rainy, the weather should be able to break through in the afternoon.  All of Normandy should see a broad thinning.
(Visited 12 times, 1 visits today)