TELECOMS: Billing problems are recurrent …
Afutt unveiled Wednesday its 2017 balance sheet, listing complaints from telecom users.

SFR comes at the top of the complaints, both for the Internet and for the mobile.

The Afutt also denounces some opaque commercial practices.
It is a "reward" which SFR-Altice would have done well. For the second consecutive year, the operator is well ahead of the 5,183 complaints collected by the observatory * of Afutt (French Association of Telecommunications Users), whose balance sheet 2017 was unveiled on Wednesday. Whether for services associated with box (Internet, TV) or mobile, Patrick Drahi's company generates a lot of dissatisfaction.
Illustration in the field of "fixed Internet". Of the 2,400 complaints received by Afutt on this sector, 60% come from SFR customers, far behind Orange (13%), Bouygues (12.4%) and Free (9.5%). "Since 2014, which corresponds to the purchase of SFR by Numericable, conflicts with users have continued to grow despite recent efforts to improve the quality of networks," notes the association. SFR is also experiencing internal turmoil with the elimination of 4,000 to 5,000 positions by 2019.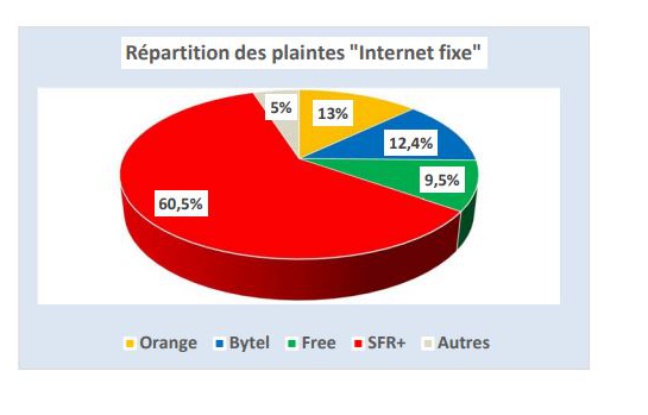 Technical quality at half mast
All operators combined, three disputes account for almost half of the complaints about the operation of the Internet. Consumers are particularly likely to report an "interruption of service" (18% of complaints) or degraded quality of operation, for example because of a low speed (12.9%). In this area known as "technical quality", SFR won the bonnet, followed by Orange. "This situation is all the more penalizing as access to the Internet has become unavoidable," says Afutt.
In addition to the technical problems, customers are also overwhelmed by the obstacles encountered when they cancel their contracts. Here again, the causes of litigation are multiple. In some cases, the operator continues the withdrawals while the cancellation request is valid. In others, consumers are blamed for a bad return of equipment (returning the box via La Poste) "then [they] perfectly followed the procedure."
Surprises in the package



Regarding the mobile sector, SFR once again focuses criticism, with 54.2% of all complaints. But the number of dissatisfied customers is also growing strongly at Bouygues, while it is stable at Orange and Free. The big weak point of mobile subscriptions is billing  : this is the main reason for complaint to Afutt.
"The complexity of offers and pricing, ambiguous commercial promotions, almost imposed changes in supply are the main causes," says the 2017 report. Similarly, the end of roaming (or roaming EU countries, effective since last summer, did not stop some consumers from facing astronomical bills.
* The Afutt states that the complaints received "are recorded on the water, without prejudging their merits, or the outcome of any disputes (…) in any case, a complaint, even unfounded legal, expresses dissatisfaction ".