The France team must show against Argentina what it has in the womb, in the round of 16 of the World Cup on Saturday, June 29 in Kazan (Russia). 

Kick off at 4pm

It goes by switching off the star Lionel Messi , or break, and this is ensured crisis: the France team against Argentina must show what it was in the belly , in last 16 of World Cup 2018 on Saturday in Kazan (4pm in Paris).

It was in the capital of Tatarstan that France had started their World Cup 2018 campaign, apathetically, and that's where they engage in knockout matches, the "mata-mata" as they say in South America: either we kill or we are killed. Prohibited apathy, and guaranteed chills between the vice-champions of Europe and vice-champions of the world.

The official goal of Les Bleus is to reach the semifinals , but the players, the French people and until the President of the Republic have the "second star" after the 1998, in a corner of the head or on the edge of the lips.

It is already necessary to climb in the quarter, where the Blues had stopped at the World Cup 2014. The President of the Federation (FFF) Noël Le Graët hammered that Didier Deschamps would remain in office until 2020, but an elimination from the last 16 would inevitably reduce the attachment to "DD" …
Griezmann expected
His team has for the moment advanced in a gutsy way. She got the results, two wins and one draw (Australia 2-1, Peru 1-0, Denmark 0-0), but sacrificed the way on the altar of tightness – a single goal conceded, penalty, without being really worried overall. A sluggish game that does not vibrate his fans …
Against Argentina, the game will be to put his guts on the Argentinian grill, fueled in particular by a Javier Mascherano seasoned grinta. Do the Blues have any character? "Against Peru, I saw it. They came back to us, we answered this, "said Samuel Umtiti.
"We had a complicated end of the match, with a lot of attacks, but everyone defended. We had this state of mind, we must keep it against Argentina."
The French defense was then compact, even if play Kylian Mbappé cons-nature right side, with mandatory withdrawal, and to align Blaise Matuidi fake left winger. "We are in a block and we try to recover the ball to be able to counter, because offensively we have quality players, who go fast and who are able to make a difference," said substitute goalkeeper Steve Mandanda.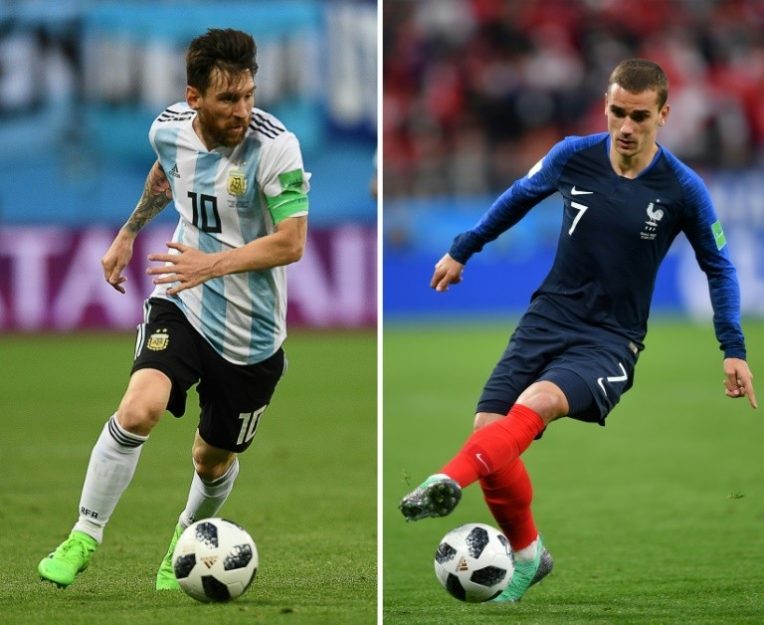 At the forefront, Olivier Giroud will bring his "pleasure in the pain" and will want to prove that he can score against a crested selection in the finals, and thus overtake the idol Zinedine Zidane in the ranking of historical scorers in the French team (they are fourth tied, with 31 achievements).
But, in the offensive animation, it is especially Antoine Griezmann who is waited for firmly by the France of football, he who was in the first round only the shadow of the best player of the Euro-2016. "I hope to raise my level further in the eighth," he said after Tuesday's masquerade against the Danes. Hurry up…
C'est parti pour l'entraînement veille de match ! 🇫🇷🇦🇷

Toutes les coulisses sur notre Snapchat et nos Insta stories !
👉 equipedefrance pic.twitter.com/KvaoGwvVgb

— Equipe de France (@equipedefrance) June 29, 2018
Messi revenge
Paul Pogba, author unlike a good tournament so far, wanted the keys of the team; it is now up to him to use it, and to show how a "pickaxe" crushes a "chip".



Because this time for the Blues in the 8 th finals, it was Argentina Messi; it is neither Nigeria (2-0 at the World Cup-2014) nor Ireland (2-1 at the Euro-2016), but a major football nation, twice titled at the World Cup (1978, 1986 ) and finalist of the last edition.
Admittedly, Albiceleste qualified on the wire, both to go to Russia and to get out of his group in the first round; admittedly, it has defensive deficiencies, exploited by Icelanders (1-1), Croats (0-3) and Nigerians (2-1); indeed, his coach Jorge Sampaoli was deposed by the "Republic of players".
But the president is nothing less than Messi, myth alive, with ministers such as Sergio Aguero, Angel Di Maria, Gonzalo Higuain or Ever Banega. And the outstanding striker, after four lost finals (three Copas America, a World), may live at 31 years his last chance to win an international title and to remove the cumbersome Diego Maradona, who still leads the game in collective memory as in the Russian galleries.