Call Of Duty WWII offers an ultra-realistic adventure in the hell of the Second World War, with the Normandy landings as a starting point.
On PS4, Xbox One and PC. Call Of is making a triumphant return on the home consoles, with Call Of Duty WWII. An authentic return to the origins, on the floor of the cows, in the middle of World War II.
Nothing modern or futuristic in this new version, exactly as claimed by fans of the series.
In the shoes of a young American soldier
The player embodies, this time, a young American soldier who lands on the beaches of Normandy to confront the German troops. We would not want to start with a criticism, while this game is superb, but it is still a pity that this long-awaited moment, so strong in world history, so intense when we live in the game, lasts only if little time on the screen.
A landing of incredible realism
The few minutes before the doors are opened in the landing craft are extremely realistic and very emotional. The hundred meters to go on the beach is equally thrilling and you dive directly into this hell of sand and blood.
The immersion is total, but very quickly you join the trenches and here you are to go from bunker to bunker. The war has begun, in an environment that will eventually bring back any other theater of war. But not just any game, because COD WWII unveils a staging and gameplay of very high level, with a scenario of great wealth and graphics to take your breath away.
A thrilling and accessible adventure
Question difficulty, do not panic. In normal mode, it is easy enough to succeed the adventure. While ammunition is not lacking, you will have the opportunity to recover a lot of first aid kits throughout your progress, to give some pep to your warrior. It will also be enough to take shelter when it canards a little too much to take a little energy, before leaving head down in the fight.
You evolve within a squad
Head down, but not too much anyway, because you will see that it is not only about playing heads to advance. The game requires, on the contrary, an ability to evolve within a squad or each has its role. You will often have to intervene on the front line, but you will also have to support your teammates in bad position or join the doctor of the unit if you feel that your strength is dwindling.
At the controls of a jeep, a plane and a tank
Rest assured, you will still be the man of the situation in the hottest moments! This will lead you, for example, to drive a jeep deep into the balloons on steep roads and suddenly have to take the gun to the rear to clear the road. You know how to lead a tank and annihilate another tank, in a city in ruins? It is desirable, because a beautiful mission of this kind awaits you.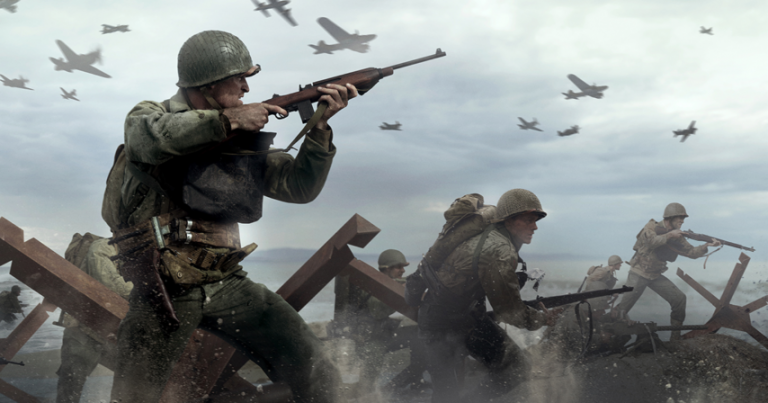 Another beautiful moment too: when you are in the skin of Daniels, surrounded by the enemy and you call air reinforcements. An incredible effect propels you to seventh heaven and you are at the controls of a fighter plane. You will first have to eliminate other planes in the sky before going to support Daniels on the ground … There is also this train to derail …
You will never get bored in this game, which will also make you live a great moment of snipe r, from the beaches of Normandyto Paris , to the Ardennes , Germany and the concentration camps .
Too short ?
If this game is terribly breathless in campaign mode, we could also blame him for being too short. An occasional player will finish in a couple of hours, and still dragging a little on the road (half the time for regulars). But the other side of the coin, we know it: when we do not see the time pass and we ask for more, it's a good sign in general.
The desire to play again is too strong
COD WWII is typically the game you want to play again. By upgrading the level one step next time, to relive this thrilling adventure. In the end, it's better a short game that we want to replay, rather than a longer game that lacks interest and we put away before even arriving in the middle of the adventure, right? Two more icing on the cake: zombie mode (live dead to die) and multi, if you play online. What spend a lot of overtime rifle in hand …
Convenient. A first-person shooter, FPS. Developed by Sledgehammer Games and published by Activision. On PS4, Xbox One and PC. Price found: around 50 euros.
[Republished with permission from Gamedealsdaily.com]