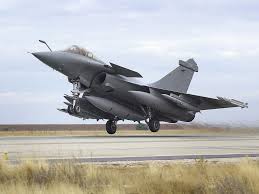 French group Dassault Aviation is poised to sign a multi-billion-euro deal with Qatar for up to 36 of its Rafale fighter jets, the presidency and sources said the other day – the third foreign order this year.
Having struggled for years to be able to sell any of its Rafale fighter jets abroad, Dassault has recently scored several lucrative, high-profile contracts with Egypt, India, and now Qatar.
The agreement, which will be signed on May 4 in Doha in the presence of French President Francois Hollande, includes a firm order for 24 jets with an option on 12 other planes, sources close to the negotiations told AFP earlier.
Earlier this year, Egypt bought 24 Rafales in a €5.2-billion($5.8-billion) deal negotiated in just three months, prompting hopes in Paris that the agreement would act as a catalyst to unblock hoped-for sales to other countries.
India then followed suit this month by announcing the order of 36 Rafale jets during Prime Minister Narendra Modi's visit to France.
The two sides had already been engaged in years of tortuous, exclusive negotiations for the sale of 126 Rafales, but these had been bogged down over cost and New Delhi's insistence on assembling a portion of the high-tech planes in India.
So India, whose airforce is in dire need of new jets to update its ageing fleet, made a quick order for 36 planes while negotiations continue on finalising the initial 126-jet agreement.
Dassault is also involved in talks with the United Arab Emirates, and French Foreign Minister Laurent Fabius has recently hinted that these are evolving "in the right direction."
The French presidency said Thursday the new deal with Qatar was a "great satisfaction."