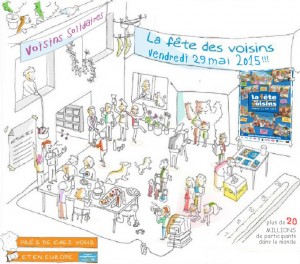 Friday is Fête des Voisins
THIS Friday here in France, is the annual Fête des Voisins, which is when people are especially encouraged to get to know their neighbours better – and this year it has been extended to cover you even if you are on the train, as it includes your 'neighbour' sitting next to you.
Throughout France, many residential areas and blocks of flats, whether it be a small village or in the cities,  will be organising get-togethers, to share food and drink and break down the isolation that is sometimes typical of modern life.  If you are organising or taking part in one there is more information (in French) at Immeubles en Fête.
And for the first time this year, SNCF is also getting in on the act, which is running an event called Voisins à bord on its TGVs.
It suggests that if you are taking the train that day you bring food and drink to share with the people sitting near to you.
Buffet cars will also be running promotions on items such as 'buy one coffee and get one for your neighbour free', or chocolate cakes made for sharing.
Also new this year is a scheme whereby people with cars will offer to lend them to neighbours without one. They will be able to open them to use with a swipe card, in a partnership between the organisers of Fête des Voisins and the company Koolicar.
The Fête des Voisins (which in English means Neighbours' Day), also known as Immeubles en Fête, was started in France in 1999 in Paris's 17th arrondissement, by Athanse Périfan, organiser of an association called Paris d'Amis.
He originally came up with the idea after being shocked at discovering an elderly neighbour who had died in her apartment and not been found for four months.  Disappointed at this lack of contact that more and more people now have with their neighbours, he created this Fête des Voisins.
The event became nation-wide in 2000 and has grown larger year on year with more people and communities participating each year and the idea has inspired the idea to spread to many other countries in Europe and further afield such as Canada and Japan.
It is estimated that nearly eight million people in France took part in last year's Fête des Voisins.