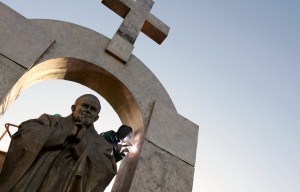 Justice ordered the town in Morbihan to dismantle the religious monument …
The statue of John Paul II in Ploërmel in the Morbihan region continues to be talked about. It is now a Hungarian mayor who proposes to save the monument, which must be removed from the public domain by decision of the Administrative Court of Rennes ."If France, land of the free, does not want it, we would be happy to have him here in our city," said Jozsef Michl, Mayor of Tata, 70 km northwest of Budapest.
The statue, erected in 2006 at Ploërmel, is accompanied by an arch, on top of which is planted a monumental cross.  It is this religious symbol that was considered early May by justice as contravening both the French Constitution and the 1905 law of separation of church and state.  The town has six months to remove the monument.
"It is outrageous that this could happen in twenty-first century, as if there was a problem with the Christian roots of Europe," said Jozsef Michl, adding that he had sent a letter proposing to "save the statue" to the Mayor of Ploërmel earlier this week.  The statue would be erected in a square named after the former Pope, explained the mayor, member of the Christian Democratic People's Party, one of the partners currently in the ruling coalition led by Viktor Orban .
Saturday organized a human chain to protect the statue
At the same time, a group was formed to protest the court decision with the slogan "Hands off my Pope!". "The Bretons must react to protect a statue that is not only part of our religious heritage, but also our Breton and European heritage as well.  If today the government kidnapped the statue of a beloved Pope, what other associations will want to destroy tomorrow? "Asks the group, which formed a human chain on Saturday afternoon "to protect the statue of John Paul II."
"It is our duty to remember.  Not just from our past but also our future, at a time when the Catholic religion is persecuted, abused in many areas of the planet, "adds the collective.  An online petition set to defend the religious monument has so far collected more than 19,200 signatures.