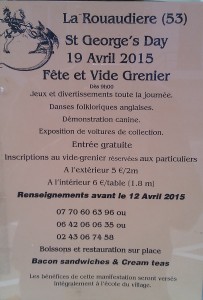 There is a boot sale, or vide grenier as they are called here in France, on this Sunday in La Rouaudiere (53), which has a bit of a twist to it as it is known locally as the English boot sale.
It is being primarily being organised by a large expat community, which help to raise money for the local village school.
During the day, besides the items for sale, which will normally be a large mixture of stalls run by both British expats and local French as well, so you get a good varied selection of items for sale, there is also going to be some traditional British Folk Dancing, collection of old vintage cars, Bouncy castle for the children and a dog training/discipline demonstration.
Food and drinks will be served throughout the day, and you can choose between a French style such as crepes and galettes or an english style such as bacon sandwiches and cream teas.  Of course, if you want to have both then that is fine as well.
It is on all day with free entry, and if you would like to take a pitch then contact them in advance to reserve a spot, on 02.43.06.74.58, with it costing either 5 Euro for 2 metres outside or 6 Euro for a table inside.
Hopefully if the weather is sunny and warm, like it has been this week, it should be a very successful event.