VROUM:
As sales figures soar for electric scooters and specialist brands multiply, we tell you all about these "clean" two-wheelers
Very practical for short daily journeys, scooters have long found their followers, especially among young people. While the fight against CO2 emissions intensifies, these small two-wheelers were nevertheless neglected in favour of modern technological innovations. But in the space of two years, a small revolution has taken place and a real electric scooter market has emerged!
A growing offer
The fleet of motorized scooters was estimated at more than 2.7 million vehicles in circulation in France in 2020, according to the Kantar TNS survey. However, according to figures from the Association of European Motorcycle Manufacturers ( ACEM ), 11.5% of scooters sold that year on national territory were electric.
Even more, this figure almost doubled to reach 19% in 2021 and reached a quarter of sales in 2022 with 85,000 sales.
Despite the economic context, the market is therefore booming, driven by a myriad of specialized brands that are popping up everywhere. Zero Motorcycles, SuperSocco, Pink Mobility, Silence, Niu, Yadea or Tym Scooter, we cannot name them all as the offer is expanding at high speed!
And if all the big manufacturers have not yet embarked on the niche, the electric shift of two-wheelers is clearly underway, as evidenced by the models of clean scooters offered by Peugeot, Seat, Kymco, Vespa and BMW.
Everyday practice
"Between fuel shortages, transport strikes, the cost of vehicles, etc., more and more consumers are turning to new forms of mobility", explains Édouard Barthès, the founder of Tym Scooter, a young French brand launched in August 2022.
And to specify: "With all this news, consumer habits are changing and we have seen sales up by +50% per month for the past year".
It must be said that the electric scooter has something to seduce! Beyond a neat design and ever so advantageous proportions thanks to which you can sneak in everywhere, these new generation models show a lot of ingenuity.
Indeed, they are most often equipped with a lightweight and removable battery that simply unhook and charge on any universal outlet, whether at home or in the office. If it is of course possible to use a specific terminal, it is therefore not an obstacle to use!
Similarly, manufacturers announce between 50 and 80 km of autonomy for electric scooters equivalent to 50 cm3 and up to 120 km for 125 cm3 scooters. It is therefore more than enough to make daily trips.
Purchase aids
Like any electric vehicle, clean scooters generally cost more than thermal versions. Count between 2,000 and 4,500 € for a moped equivalent to a 50 cm3, while the price of 125 m3 can soar to more than 12,000 € depending on the brand.
Fortunately, young specialized brands, including French ones, make it possible to afford an electric motorcycle at more affordable prices.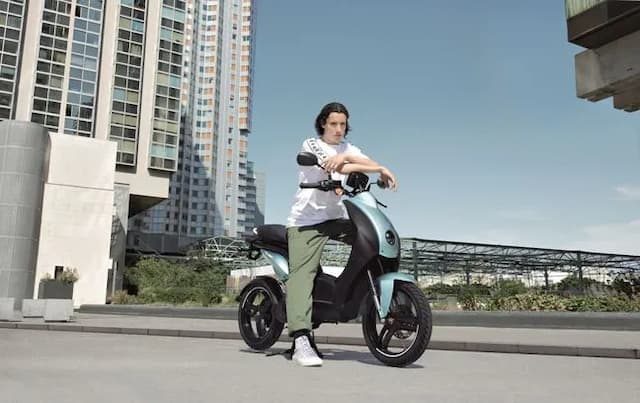 Good news: public aid also helps reduce the bill! New electric two-wheelers are in fact eligible for the ecological bonus which makes it possible to obtain up to €100 for a power of less than 2 kW and up to €900 or 27% of the acquisition cost for a scooter of 2 or 3kW.
Remember to contact your mayor or department since some territories grant cumulative grants.