From the Vally to the public garden via the basilica and the central square, there will be something for everyone during the Fête de la Musique scheduled for Saturday 17th June
It is a beautiful poster, dense and eclectic as desired, which is offered for the Fête de la Musique (music festival), this Saturday 17th June, in the city centre of Guingamp (Côtes-d'Armor). 
Choir, music school orchestras, Brazilian music, fest-noz, rock and modern music with Rock à l'Ouest… There will be something to delight a maximum of audiences and generations.
Current music in the spotlight at the Vally
From 4 p.m. to 1 a.m., ten rock groups and a rap group, invited by the Rock à l'Ouest association, will follow one another. To avoid any dead time, two stages will be set up on the site. The place will be secure with refreshments and catering on site.
Among these eleven groups, the three headliners:
Sol Invictus: the rappers return to Guingampaise land, a year after their last remarkable passage. Briochins rappers of the 97 generation, they sharpened their feathers on Costa Rican concrete. From conscious and committed rap to technical and hard-hitting drill. Vibrations guaranteed!
The Dandy Monkey: committed raw rock marked by the imprint of animal energy and lyrics sung in French.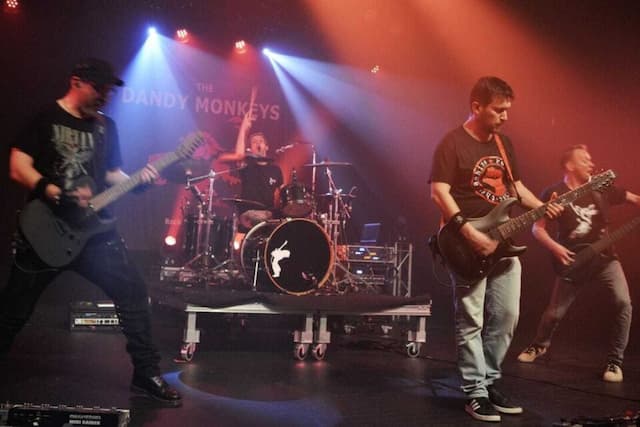 Pandapendu: Yann Ollivier's electro-pop solo project (Thomas Howard Memorial, Craftmen club). The other eight bands will play 45 minutes.
Red Rivers of Weepin': combo from Trégor, it boasts a sound steeped in 70s folk/rock with psychedelic tones,
The Light Side Band: alternative rock, between energetic and pop songs;
Dead Brain: Yo on drums, Ju on guitar and nothing else for instrumental metal;
Sloggers : rock
Red Stones: pop-rock covers, blues and some compositions.
Fries:  "one man band" with "paust peunk" style songs in French
X/Y: 2 guys, 2 girls in the cover repertoire.
Bartowsky: (power trio whose sonic roots are rooted in stoner, heavy blues and psychedelic rock).
In the public garden
From 7 p.m. with the children of the Guingamp-Paimpol Agglomeration music school led by their teacher, Arnaud Alibert.
They will be followed by the World Wind Orchestra, made up of several dozen musicians, belonging to several music schools. It includes transverse flutes, accordions, basses, guitars, percussion and a piano. The harpists will take over.
At 8:30 p.m., Mariana Caetano will lead an initiation to Forró, a traditional Brazilian dance.
From 9 p.m., the Brazilian artist will be accompanied by Marcelo Costa, a Paulistano percussionist and Yann Le Corre, a Breton accordionist. A mixture of cultures with a unique result.
 At 10:30 p.m., the fest-noz, organised by Ti Ar Vro and the Théâtre du Champ-au-Roy, will begin, with Stal Kan, the singing workshop of Ti Ar Vro around Gwenn Morvan. The groups Berjul, Bepred/Baprad and Carré Manchot will host the rest of the evening.
Centre of Guingamp
From 11 am , at the end of the market, the harmony orchestra of the Pays de Guingamp will take over the streets. The musicians will leave from the bottom of the Place de la République to settle alongside the Plomée fountain.
At 4 p.m. , at the Notre-Dame Basilica, Chœur à cœur  choir .
 At 6 p.m., the Bagad of Gwengamp , accompanied by the Cercle celtique Kroaz Hent Gwengamp, will march from rue Notre-Dame to Place du Centre.
In the bars
 At La Glycine, everyone will be able to express their musical talents thanks to an open stage set up by the tenants of the place, from 4 p.m. to 11 p.m.
At P'tit Bonheur , two concerts will take place. At 7:30 p.m., NBTblues will take the stage where musicians will perform blues, folk and rock tunes. They will be followed, at 10:30 p.m., by the Kingz Mansion.
It is at Campbell's that the evening will end later. DJ Ibo will perform there from 3 p.m. to 3 a.m.