INTERVIEW: 

Delayed by a flu at the start of the season, Florent Manaudou is still in good shape. It intends to increase in power until Paris 2024 and the height of luxury, seems to flourish again in the basins. It wasn't always the case
And if Florent Manaudou held his click? In poor shape after the 2021 Olympics which marked his return to the top of Olympus, the French swimmer went to get the icing again, at the end of April, at the Belgian championships (victory in the 50m freestyle in 21"98). A time to be confirmed this weekend: the sprinter is diving back to Canet-en-Roussillon hoping to swim faster and better. Between the two, Florent Manaudou gave himself up for an interview at the bend of a media operation for his sponsor Arena. Where it is a question of the rise to Paris 2024, of his reunion with his lifelong coach and of the mental health of the athlete.
How did you end up competing in the Belgian championships?
I was supposed to swim in Marseille, Nice and Saint-Germain-en-Laye at the end of February but I fell ill. I had the flu. So I looked for a competition not too far away to gauge me. We found this competition. The national championships are often open: at the French championships, we also have foreigners.
Are you satisfied with what you were able to produce there?
It's the first race since my return in 2019 where I felt like I had things under control like before, even if it's not perfect yet. On my best times, I know that in terms of efficiency, I will be at 34 or 35 strokes. If I do 38 movements, it's because I'm not taking enough water. In Belgium, I was very efficient. And in terms of m/s, speed, I remained stable throughout the 50m and that's what I like. I prefer to do 21s98 like that than 21s70 badly done.
There is a paradox in your speech in the sense that you are on the one hand perfectly tuned to your feelings, and on the other, you are addicted to data. What does this data bring you?
First, you have to know how to take them into account, use them correctly, but not fall into them too much. Data is data, but you have to have feelings. There may be a discrepancy between the feeling and what the data or video shows us. But yes, I've always liked data, I've always liked to compare myself to what I was doing before, which isn't necessarily good… I'm ten years older than ten years ago (there smiles). So be careful not to get lost in the data. But there are important markers.
For example, I have a ring that tracks my sleep. I have my data since October and I know what time I should go to bed ideally to be the best possible. I learned that I needed to eat a little earlier so that my body digested earlier and I could sleep earlier. Before, I could eat at 9 p.m. and go to bed at 10:30 p.m., now not. But you also have to know how to unhook. There are times when, if I have dinner with friends, I will eat at 9 p.m. without any problem.
Is it a mental load, stalking each other all the time?
You have to take it cool. It's an indicator and it doesn't have to be a truth. It helps me in my perf, but it's not my truth. I have already slept five hours in the night and been super well, or slept eight and not so well. The idea is above all to understand how my body works in the long term.
You said a little earlier that you like to swim faster and faster. Is the goal to have a linear progression until the Olympic Games or to be on top from the 2023 Worlds?
It's only natural to swim faster and faster over the course of a season. There, I will do two competitions: one in Canet-en-Roussillon, the other in Barcelona. In my head, I tell myself that I will do 21s8 in Canet, 21s7 in Barcelona, ​​21s5 in the French championships and 21s3 in the world championships. But if it is, I will do 22s, 22s2, then 21s4 and 21s7. But I would love to swim faster and faster because it builds confidence. For a year, I didn't work well because I took a semi-sabbatical year with the aim of arriving fresh at the Games in Paris. The work I've done since September is starting to pay off and I'm starting to rebuild this confidence that I no longer want to lose.
It hasn't always been the case, but with experience, do you manage to manage potential low points?
To admit everything and without pun intended, I take my head out of the water because I had a confidence problem since the end of the 2021 Olympics. Since I hadn't worked a lot, of course, I didn't swim fast. And when we don't swim fast, we want to reassure ourselves by swimming faster, regardless of the level of experience. The sprinter can make an easy shortcut and say to himself: "I have to swim fast, so I will turn my arms quickly". But it's the way that brings the performance, not the fact of thinking very hard about a performance that will make it happen. At the Belgian championships, I who have problems with patience, I was finally patient. I'm starting to rebuild my confidence. It's there, but it's small because I only performed well. But by the Olympics, it will be much better, because I have been focused since January.
Is that also why you brought James Gibson back into your staff?
Yes. James brings me serenity in my preparation. It's not necessarily the workouts he does for me… If a coach had found the recipe for making all swimmers swim fast, it would be known. All coaches do pretty much the same thing in terms of training. But I know that James has made me swim fast, that James has made sprinters swim fast, including my fiancée [Pernille Blume], that he has had Chad Le Clos swim fast… When I was just with Yoris Grandjean and Quentin Coton [his two other coaches], we did 95% of the same sessions as what James sends. But we wondered if it was good to do it when we were doing it, if we shouldn't do more of this, less of that. It was uncertain. We were novices, both them and me. Now the trio with James is super balanced. And yet, James, I've only seen him three times since January. I have four or five times on the phone during the week, he debriefs and discusses with the coaches.
Gibson says you can't be 100% all the time, that you need "certain moments to breathe and be French." What could that possibly mean?
(Laughs) I don't know! He is English, we do not know how we are perceived around the world, but I am very like that. I was always told that I was very smart in training. I don't always listen to the coach.
Are you a rebel?
I don't see it like that. When I receive a program for the year, the week, or a session, I know where I have to be good. I set myself times when I forbid myself to be bad. Generally, in these moments, I am much better than the others in training. But besides that, there are sessions where I am a little below. I need 120% and 80% moments. The 120% moments are the moments that I consider to be important, and James understood that very well and the other coaches too.
It's a bit of a secret to your longevity, isn't it? Because we can start talking about longevity, there are not many who in the sprint have had a very long career.
I chose my life. When I quit in 2016, people said 'oh he quits when he's swimming super fast'. But I don't care. I stop because I don't feel like swimming anymore. I don't swim for other people, even if the sport is a show and you give people pleasure I read an interview with Max Verstappen where he said he might stop in 2028 because he doesn't is not here to break records. It's awesome. The guy does what he wants, it's his life. When you become famous through sport, you belong to the people. And people want to decide our own career. But if I want to do something else, I do something else. We get judged as a public figure, but that doesn't stop me from making my way. It hasn't worked out too badly for me so far.
We feel that there is still a rather unprecedented benevolence around the well-being and mental health of very high-level athletes, right?
We talk about it a lot more. We realize that the result matters very little in terms of mental health. Simone Biles, multiple Olympic champion, Michael Phelps, Caeleb Dressel… Only multiple Olympic medalists. Guys who you might say are happy because they got what they trained for all their life. But the reality is that the result does not make you happy. Obviously, at the time, it's a crazy thing, but when, two weeks later, you have to dive back, mental health comes into play. There are not many jobs where you are confronted with the best in the world and where, once you've been first, you can't do better. If you are 4th after being first, we will say that you have regressed.
Concerning most of the athletes you have mentioned and in which we can include you, is there also this fatality of the precocious champion? You started by winning the Olympics, so literally by doing the best in sport.
When you win, you get used to it, and so do the others. You reach a level that no longer allows progression. On the other hand, if you were 2nd the next time, you were less good. So you will train all your life to be less good. To take a very recent example, people were very disappointed to lose the FIFA World Cup final to Argentina. The guys are still in the final. They are 2nd. And we are sad because they won last time. Let's relax, guys. How many didn't even make it to the final? We must not believe that because we won once, we will win all our lives. It does not work like that. And according to this mode of reasoning, 4th is a bad result. But it's wrong! I made 1st out of 7 billion, then 2nd out of 7 billion, etc. It's still not bad (laughs).
Despite that, have you found meaning in everything you do on a daily basis in the pool?
I walk for pleasure. There I am very well at the moment, but if I am not well tomorrow, I stop. It won't, because I'm great. But that's what happened in 2016: I had excellent results, but I wanted to do something else, and I stopped. I kinda do what I want.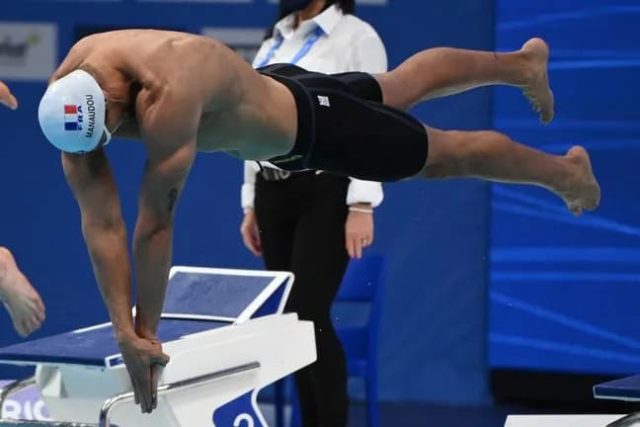 There is one, who works very well and on whom we are already putting a lot of pressure, it is Léon Marchand. For the moment he is a bit in his bubble, but anticipating the 2024 Olympics, is the psychological aspect something you can bring your experience to him on?
I think he's doing great right now. If I see that he's fine, I'm not going to talk to him, or put ideas in his head, it would be useless. But if I see that he suffers a little from that, yes, of course. I will necessarily talk to him before the Games because the Games at home are different. Even though I've never experienced it, I know a lot of athletes who have done the Games at home and it's a different approach, so I will discuss with him, but I will discuss it with all the other members of the French team.
Will you be in captain mode in the locker room?
Yes! After that, it's my role. I was educated by the oldest of other generations, and I try to add my touch and try to explain what I understood of high-level sport. But everyone has their story and lives their career as they see fit.