Your garden needs little attention to keep it from being overwhelmed by weeds. 

Think tips and anticipation to avoid wasting your energy and time.

You are a supporter of least resistance to the garden and at the same time, you enjoy the serenity that emanates from a clean garden without weeds … Know that make life easier in the garden goes first and foremost to the anticipation.

A beautiful garden must have been thought out and arranged.
Homemade weed killers
No question of using chemical weedkillers, aggressive or harmful to the environment. Since January 2019, glyphosate has also been banned for individuals.
But you can prepare different formulas yourself: white vinegar, coarse salt and water.
Count 5 litres of water for 1 kilo of coarse salt and 1 litre of white vinegar. Do not overuse the salt, it will overload the soil, impoverish it and can damage the surrounding plants.
Baking soda is quite effective on weeds stuck in the slabs, use it neat, only on the weeds to be treated.
You can also recover the cooking water from potatoes, pasta to burn the leaves and roots. Be careful, it takes four passes to get results.
Mulch and use ground cover plants
The mowing of lawns, the mulch minerals from shredding shrubs will prevent weeds from growing and keep cool in front of your shrubs.
Be careful, however, with this mulching, it will suffocate the soil and promote the emergence of plants seeking deep rooting such as bindweed. On the other hand, it will limit the establishment of seeds brought in by the wind. The mineral mulch and pine bark will therefore be the most effective.
Another solution is to plant barrier plants. With dwarf St. John's Wort, no weed problem, it will take up all the space.
Also, try officinal sage. With its small red flowers, this slightly fragrant plant will not give weeds a chance. Lavender, creeping rosemary or cistus are also very effective.
Vigilance, vigilance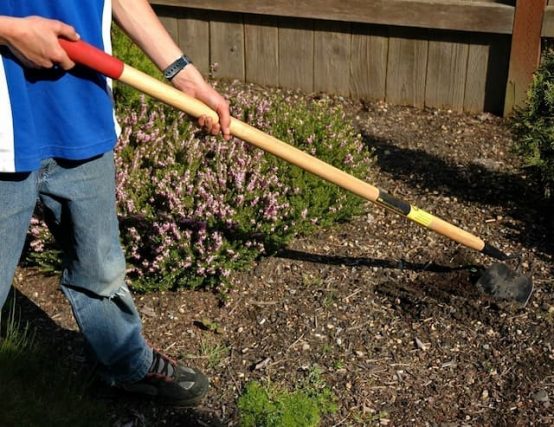 Be vigilant about the plants you invite into your garden… Spurge and fennel tend to reseed and multiply very quickly.
Finally, good hoeing or weeding will save you a lot of trouble. Take advantage of damp earth to turn it over and give it a fresh start!