We were getting closer to the perfect Easter weekend in Morbihan. But a depression arriving Monday decided otherwise. Showers will be expected all day.
From this Friday afternoon, the sun will show and show well. According to Meteo-France , the sky should be totally clear over Plouay and Questembert .
And in addition, it will be hot: 19 degrees near the coast at 24 degrees inland.
#CLIMATOLOGIE #BRETAGNE #TEMPÉRATURES
Quelle est pour l'instant la journée la plus chaude de 2019 en Bretagne?
On attend un chamboulement de cette carte dès ce soir
Plus d'infos ici:https://t.co/KBDksbNDI2 pic.twitter.com/KaAg4hYUKE

— Météo Bretagne (@MeteoBretagne) April 18, 2019
A saturday and Sunday
No changes announced for Saturday, April 20th. The sky will always show its beautiful blue colour. At the end of the day, we expect some downpours on the Loire-Atlantique border.
We expect softness in the morning with for example 18 degrees in Lorient or 19 degrees in Ploërmel. with it reaching 23 and 24 degrees in these same towns in the afternoon.
On Sunday, the sun will be a little more veiled and temperatures will drop slightly. It is nevertheless 19 degrees in Pontivy and 20 degrees in Vannes.
Note that we also expect a slight wind with some gusts to 30km/h.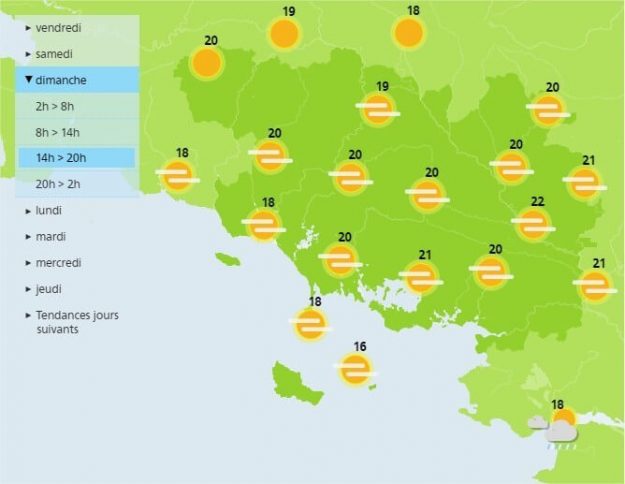 A rainy Easter Monday
This Sunday veil is actually there to announce rain showers on Monday. After a covered morning, the first rains will fall in the afternoon.
If it will be small recurring showers, expect still to take the water especially in the early evening.
The sweetness will always be present with a maximum of 20 degrees in Locminé or 22 degrees in Pénestin.