A city like no other has just opened in the famous technological and scientific leisure park. A city of the future imagined for and by children …
21 activities spread over 3 hectares and entirely dedicated to children and their parents. This is the 2019 novelty of the Futuroscope . His name: Futuropolis . Built on the basis of a city of the future, it is composed of neighbourhoods featuring crafts and universes that make children dream: firefighters, inventors, lifeguards, airplane pilots, sailors, gardeners.
Activities for children and their parents
With each new activity, it is the occasion of a sharing between parents and children. And this is also the main reason that pushed the Futuroscope team to imagine this new city in the park. Rodolphe Bouin, Director General of Futuroscope, states:
"Two thirds of Futuroscope's visitors are families. We wanted a city, Futuropolis, designed for all ages with a purpose, sharing. Parents share activities with their children.
Élodie Gossuin, godmother of Futuropolis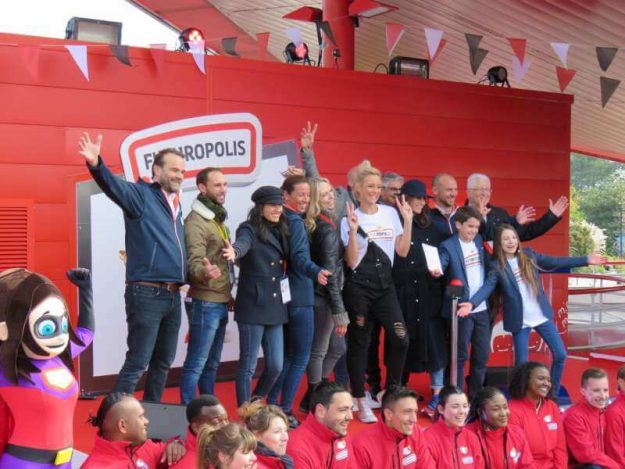 Saturday 13th April, Rodolphe Bouin inaugurated the city of children in the company of former Miss France and Miss Europe, Elodie Gossuin , the godmother of Futuropolis. The opportunity to insist on the genesis of such a project.
Four years ago, the Futuropolis team interviewed children about the city of the future, expecting to hear about new technologies. In the end, toddlers have created wind turbines, trees, water and pedestrian towns. The idea of ​​Futuropolis was launched. In a playful, aesthetic and eco-responsible version.
Without much surprise or real novelty, with the exception of giant floating trampolines designed by Futuroscope's Research & Development Department, the activities have the advantage of seducing toddlers to young teens. For older children, it's a safe bet that sensational attractions, just a few meters away, are more interesting.
Learn, have fun, without hurry
With this new city, the Futuroscope therefore makes the bet to attract and interest all audiences. At each age, its activities! But with one more asset: that of a park where it is good to learn, discover, have fun … without hurry. Huge beanbags and colorful outdoor cushions, placed on the lawns, invite you to forget the stress of everyday life to share unique moments with your family.