Available in the United States from February 17th, 2019, Nike new sports trainers tighten on their own and can be controlled with a smartphone.
Back to the future II, you know? After the adventure of Marty Mc Fly in 1989, the dream comes true 30 years later! Nike has just introduced in New York its new model of connected trainers, the Nike Adapt BB, Tuesday 15th January, 2019. Shoes that have the particularity … to tighten automatically around the foot, without laces.
Introducing Nike Adapt BB. Power laces for the perfect fit.

Pre-order now for a limited time only on https://t.co/bowoctlxR0 in the U.S. Arriving globally February 17: https://t.co/5cm5ou0XQC #nikeadapt pic.twitter.com/UDbUBK7HvK

— Nike (@Nike) 15 January 2019
350 dollars for a pair in the United States
This basketball will be available for sale from Sunday 17th February for 350 dollars in the United States.



"We chose basketball as the first sport because of the demands of the athletes in footwear," said Eric Avar, director of Nike's Creative / Innovation Department.
"During a basketball game, the athlete's foot changes and the ability to quickly change the fit by loosening the shoe to increase blood flow and then tightening to improve performance is a key element that we believe improve the athlete's experience."
Through a smartphone application, users of this Nike Adapt BB will be able to adjust several parameters of their shoes, such as the level of pressure around the foot or the colours of the diodes in the sole.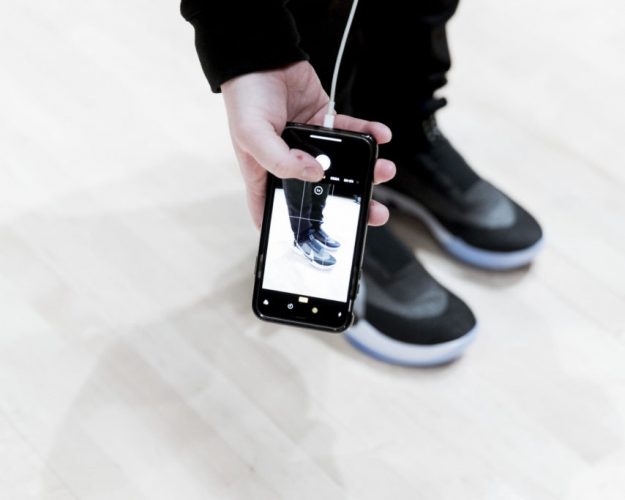 How does the shoe work
When a player wears his Nike Adapt BB, "a custom engine and gear train senses the foot tension and adjusts accordingly to keep it properly adjusted," the company said in a press release.
"This is where the brain, or FitAdapt technology, comes into action. By manually tapping or using the Nike Adapt app on a smartphone, players can enter different adjustment settings based on the timing of the match. For example, during a timeout, a player may loosen the shoe before tightening it as it enters the game."
In the future, a function will even allow "a different clamping adjustment for overheating".