New notes of 100 and 200 euro will enter circulation in the euro zone from the 28th May, 2019. They will have the same height as the those of 50 euros. 
The new 100 and 200 euro notes, which will be put into circulation on 28 May 2019, have just been unveiled by the European Central Bank (ECB). After the cuts of 5, 10, 20 and 50 euros, the bills of 100 and 200 euros are the last cuts of the series "Europe", which will be complete, the institution communicates . 
Two of the security signs used include a portrait of Princess Europe, a character from Greek mythology who gave her name to the continent.
Nouveaux billets de 100 et 200 € mis en circulation à partir du 28 mai 2019
👉 https://t.co/d9usq3svqw pic.twitter.com/eqTrfa5yXW

— service-public.fr (@servicepublicfr) 18 September 2018
Easier to handle
"These two denominations of 100 and 200 euros have indeed the same height as the 50 euros note, while they keep the same length as currently: the longer the notes are, the higher their face value is", says the ECB.
"These cuts will be easier to handle and can be processed more efficiently by machines. Their size will also be better suited to portfolios; they will have a longer life because they will be less prone to wear and tear"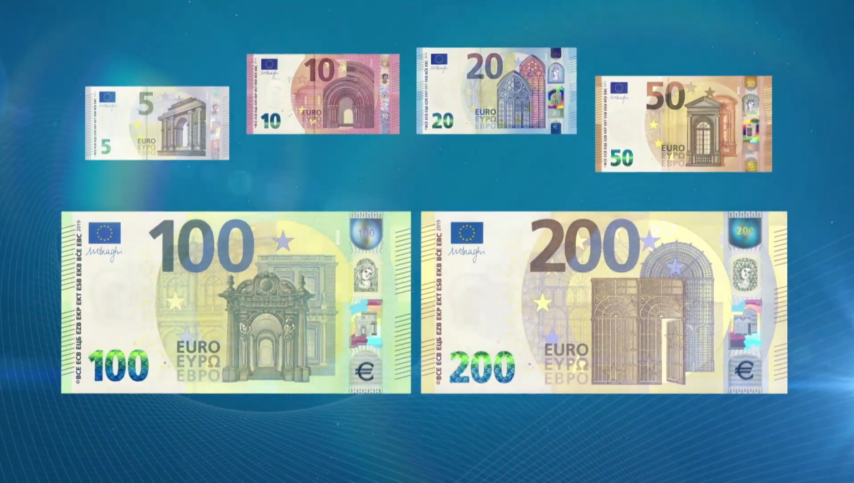 Harder to copy
According to the website service-public.fr, "the security signs of the cuts in this series are perfected to allow better protection against counterfeiting. As with the other new outstanding notes, it will be easier to check the authenticity of these notes through the touch, look and tilt method. "
With 2.7 billion 100 euro banknotes in circulation, the number of 100 euro banknotes in circulation is higher than that of the 10 euro banknotes (2.5 billion banknotes). These new tickets will make up for the scheduled end of the 500 euro denominations .
1200 billion euros of cash in circulation
To date, the total number of banknotes in circulation in the euro area amounts to 21 billion denominations, the total value of these notes reaching approximately 1,200 billion euros. 
See the production of the 100 and 200 euros banknotes: