On this Monday of Pentecost, a risk of thunderstorms spreads to most of the country in the afternoon, except in Brittany. 
After the beautiful sunny days of the last days, a risk of thunderstorms spreads to 3/4 of the country on this Monday of Pentecost, except in Britain . It was already the case Sunday in the region of Toulouse.
In Provence-Alpes-Côtes-d'Azur and Corsica , showers mixed with thunderbolts will be present in the morning, according to the forecasts of Météo France , where the rest of the country still benefits from thinnings, punctuated by ripples more scattered.
In New Aquitaine, Auvergne-Rhône-Alpes, in the Hauts-de-France, and in Burgundy-Franche-Comté, light showers could be at the rendezvous.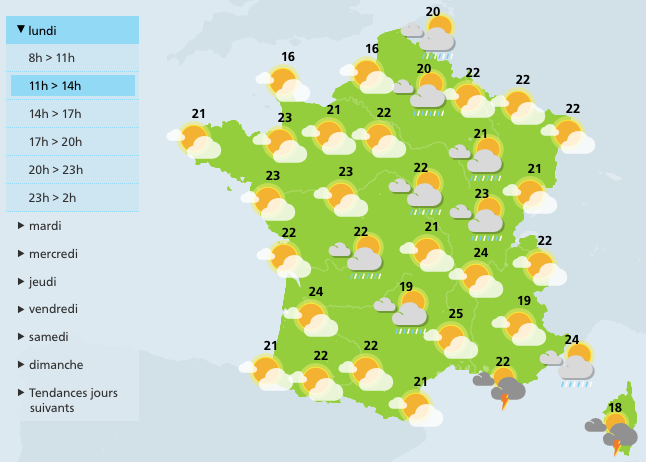 Chance of thunderstorms and heavy rain
On the other hand, it deteriorates in the afternoon, with a risk of stormy rains for the rest of the day. Météo France, which has placed almost the entire country in vigilance yellow thunderstorms, indicates:
"In the afternoon, thunderstorms resist but are thwarted by increasingly threatening clouds and more frequent showers."
A situation that can give local heavy rain and that can go up to the storm, "in mountain as in plain".
Only Brittany should really be spared by the risk of floods.



Up to 25 ° C in the afternoon
Side temperature, they are softer and higher than Sunday. This morning, they are between 9 and 16 ° C from north to south.
In the afternoon, we wait between 17 and 21 degrees on the coast of the Channel, between 21 and 25 degrees elsewhere.