In the midst of a Western offensive, Saudi Arabia's powerful Crown Prince Mohammed bin Salman arrived on Sunday for a three-day visit to France.
In the midst of a Western offensive, Saudi Arabia's powerful Crown Prince Mohammed bin Salman arrives for a three-day visit to France on Sunday to praise his reforms and tighten ties with Paris after tensions over regional crises. .
Sunday is a day of private visit for the 32-year-old prince, nicknamed "MBS" , and his program remains relatively mysterious.
According to a source close to the Saudi Arabia delegation, it is possible that MBS will attend the closing concert of the Easter festival of the southern city of Aix-en-Provence , where will be played Debussy, Robert Schumann and Felix Mendelssohn.
MBS is in the midst of the Western's offensive of seduction to project a somewhat more liberal image of the conservative kingdom to authoritarian power.
He has already visited the United Kingdom and has just spent three weeks in the United States, where the prince has courted business leaders and signed a multitude of agreements to promote investments in his country that he wants to prepare for the future. 'after oil.
No mirobolant contracts expected in France
In France, he must meet Emmanuel Macron on Tuesday to tighten the links of a complicated relationship between the two countries, and while Saudi Arabia is largely involved in the many crises that shake the Middle East.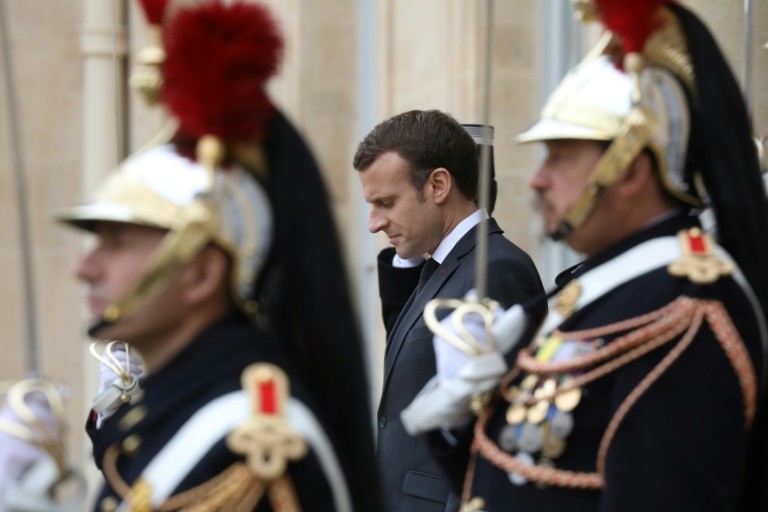 In Paris, no "mirobolant" contract is expected. President Emmanuel Macron wants above all to establish, according to the Elysee, a "new cooperation" with the oil kingdom, which should enter a new social and economic phase with the accession to power of MBS.



"It's about forging a new partnership with France, not just chasing contracts," said a source close to the Saudi delegation.
For Denis Bauchard, Middle East expert at the French Institute of International Relations (Ifri), "the bilateral relations are not good and MBS had a hard time being persuaded to come to France".
"MBS is fascinated by the Americans while he feels a certain condescension vis-à-vis France"
Culture, tourism …
In Paris, the focus will be on culture, tourism, investments for the future and new technologies, including a visit of the Crown Prince to F Station on Monday, the incubator of Parisian start-ups.
More than a dozen memoranda of understanding in the fields of tourism, energy and transport must be signed, says another source close to the Saudi delegation.
A cooperation agreement for the development of Al Ula, which contains important archaeological remains, must also be announced.
During the Tuesday afternoon meeting with President Macron, there will also be regional crises: Syria, the Iranian nuclear agreement, the war in Yemen – where Ryad intervenes militarily, or the situation in Lebanon.
It may also be a question of the Sahel, Saudi Arabia being a contributor to G5 Sahel, the development and security structure of the region essential for Paris.
Macron was personally involved in November in the crisis around Lebanese Prime Minister Saad Hariri. The latter, apparently under pressure from MBS, had announced his resignation from Ryad, where he had been held for two weeks before reconsidering his decision.
"There was tension when MBS tried to challenge Macron's role in the Hariri episode, but then MBS had to back down," said Abdullah Alaoudh, a Saudi scholar at Yale Law School (USA). . "It's never easy for an authoritarian like him to accept this."
Paris wants "Lebanon to be as stable as possible, which inevitably passes by a certain agreement" with the pro-Iranian Shiite movement Hezbollah, criticized by the Saudis, adds Denis Bauchard, while Ryad and Tehran fight a struggle fierce influence throughout the region.
NGOs and Yemen
The crown prince is keen on strengthening ties with US President Donald Trump, who has threatened to withdraw from the 2015 nuclear deal with Iran, for lack of improvements to the international pact before May 12. Macron should try to convince MBS that it is better to try to save an agreement.
Regarding Yemen, NGOs intend to be heard during the visit of MBS for Paris cease its arms exports to Saudi Arabia, regularly criticized for smearing suffered by civilians in that country.
Another thorn in the foot of Franco-Saudi relations, the arrest warrant issued in December by the French justice against the sister of the Crown Prince, Hassa, suspected of having ordered his bodyguard of to strike a craftsman in Paris.