This weekend of February 24th and 25th, 2018, the sun will shine high in the sky. The cold, it will be well anchored throughout the Normandy region. Maximum temperature? Six degrees!
The weekend of Saturday 24th and Sunday 25th February, 2018, although chilly, is announced bright in Normandy.  In addition to sunglasses, we must especially not forget the scarf and hat.
Saturday 24th February, a three degree warmth
With a maximum peak temperature hardly reaching the six degrees throughout the territory for the day Saturday it will … curse, as much say without taking gloves (though)! It will be late in the morning to feel a slight warmth. All things considered, of course, because we are talking about two or three degrees Celsius at most. Not even what to bring out the barbecue for noon.
Sunday 25th February, the temperature changes
No need to put on wool socks! Sunday, it will be a little four degrees on the tip of the Cotentin, and no more than two degrees on the coasts of Nacre, Fleury and Alabaster.
In the afternoon, it will be cooler than in the morning. From 1pm we go down into the negative!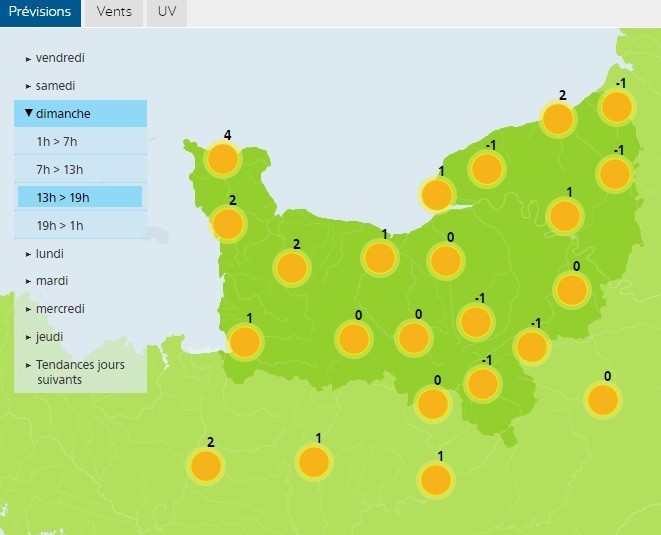 But the most important thing is that the sun will shine very high. Finally, we hope!



Back on the season records
The records in meteorology are called remarkable values. And this name is not stolen when we reveal some. Thus, on February 28, 1960 in Saint-Gatien, the mercury rose to more than 20 degrees (20.9 exactly). On the other side of the thermometer, there is the city of Caen, February 25th, 1950, which then displayed a negative temperature. Minus 18 degrees.