Emmanuel Macron presented on Sunday, December 31 greetings to French, the first of his five years. What you need to remember.
Emmanuel Macron has put social cohesion at the centre of his wishes for 2018 without changing its reform projects it intends to pursue "with the same force and the same rate" this year.
"We need to rethink a great social project for our country, I will deploy during the year," he started presenting since the Elysee office first vows of his five years in a 17-minute allowances . Finally classical in form, he broke new ground with the vows on the internet for youth ultra-short version of 2 minutes.
"I believe in the achievements and successes, but these successes are worth if the success of a few", which "feeds cynicism"? "Nothing of lasting good, so many Nations are now crashing because only a few are successful there," he commented.
Vœux 2018 à la jeunesse. pic.twitter.com/jSaHk5BQ12

— Emmanuel Macron (@EmmanuelMacron) 31 December 2017
Upcoming projects



However, he remained firm on his reform projects, whatever the opposition. Addressing "those who do not share the government's policy," he assured:
"I respect them, I listen but I will not stop me from acting. And always at the end, I will."
Without returning to its balance sheet in 2017, it reviewed the next yards, frontally addressing two controversial topics: the fight against illegal immigration, with the "essential identity checks" and its promise for the moment not holding ensure shelter.
Arguing for a line to both "humanity and efficiency" in the future law on immigration, he stressed the "moral, political duty" to welcome, under the right of asylum "those who flee their country because they are threatened because of their origin there, religion, political convictions ".
But for others, "when someone arriving on our territory is outside the asylum and has no chance of obtaining French nationality, we can not accept that he has for months, years, in a situation of irregularity, which is not good either for him or for the country. "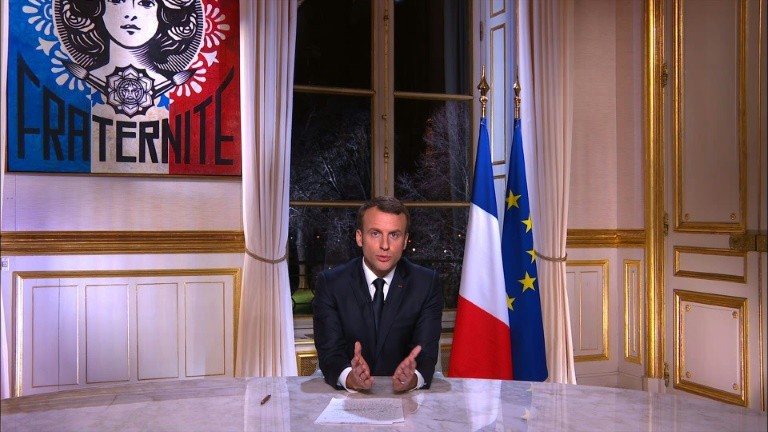 A reference to JFK
While it has been criticized for not honoring its commitment to "see no one in the street before the end of the year," he reiterated this promise. "Count on my entire determination in the matter", he stressed.
Among his projects, he cited "rural areas", where it wants to develop mobile networks and transport, the neighborhoods "to ensure economic and social mobility", farmers must be able to "live the price paid" , equality between men and women and an administrative simplifications right to error.
Emmanuel Macron also addressed to all Europeans, claiming their support to "draw a big project" for Europe and stressed the importance of the Franco-German couple, echoing Angela Merkel has done the same in his vows taken Sunday.
"My dear fellow Europeans, 2018 is a special year and this year I need you," said their head of state.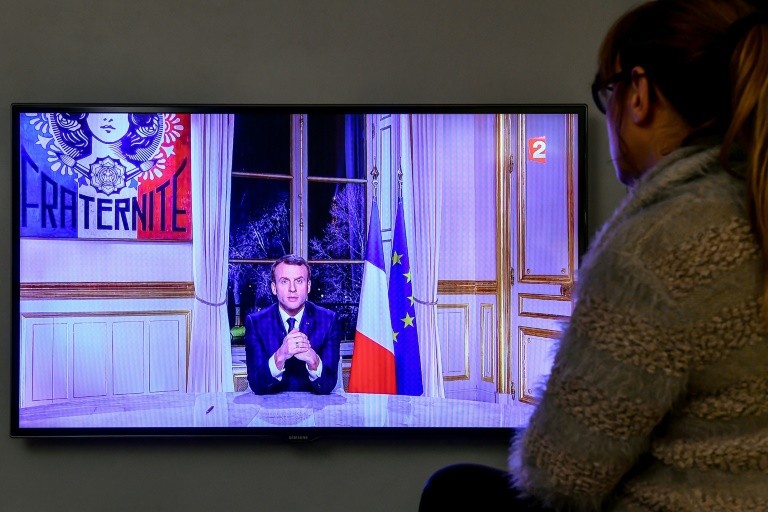 Taking last appeal of John F. Kennedy, he recommended the French to "ask what they can do for their country" and called for "the French renaissance" despite "the irreconcilable divisions (who) are undermining our country" .
The right and left were all immediately criticized presidential wishes. For Gilles PLATRET (LR), "the account is not there." "He will listen and respect those who do not agree, not seen in 2017: elected, Assos, unions," quipped Rachid Temal (PS). "Beautiful inverse words to acts," Eric Coquerel (Left Party), "a rehash" for Nicolas Bay (FN) and "slavish application of Brussels injunctions" for Florian Philippot (Patriots).