The protesters demanded "a remunerative price" for their products and "fair distribution of margins" …
Several farmers have set up checkpoints around the city of Vannes at 6 am this Monday morning to the call of the FDSEA of Morbihan.  The protesters are demanding "a remunerative price" for their products and "fair distribution of margins".
Farmers are preventing any vehicle to pass, except for emergency services, while agriculture ministers meet in Brussels on Monday.  Last Thursday evening, President Francois Hollande promised that "things were moving" at this European Council, where France has particular request "a European storage plan" to relieve the market of overproduction of milk and pork .
snail operations
According to The Telegram , some 80 tractors with trailers were posted at nine bottlenecks.  Arrived by snail operations, they are therefore positioned at interchanges leading to the city, while police blocked city entries to prevent the passage of agricultural machinery into the centre of Vannes.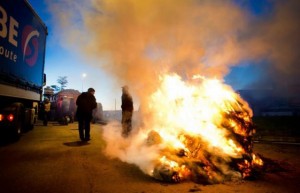 Dozens of tractor marched on the N165, causing slowdowns. Oyster farmers, traders, artisans and taxis also expected to join the movement, for its part, Ouest-France .
#manifestationagricole Carte des blocages à 6h30 sur #Vannes #Theix #Arradon #Saintavé #Morbihan pic.twitter.com/tLsIByOePN

— Préfet du Morbihan (@Prefet56) February 15, 2016
The 
prefect of Morbihan
 had nevertheless on prohibited the movement of agricultural vehicles from Monday in the town of Vannes.
Several blocks on Sunday evening
Blockages of logistics platforms by farmers began on Sunday night in the Ain.  At the call of the Regional Federation of Farmers' Unions (FRSEA) and Young Farmers (JA) of Auvergne-Rhône-Alpes, nearly a hundred people have been involved at Carrefour in Saint-Vulbas and Systeme U site at Saint-Just  with a total of fifty tractors and trailers, in a "calm and in a friendly atmosphere."
Farmers, who are going through a serious crisis, are increasing this month their actions throughout France, but mainly concentrated to Brittany.  Blockages that have sometimes be held for several days are estimated to have caused nearly 4 million euros of damage, according to the regional prefecture.
(Visited 5 times, 1 visits today)