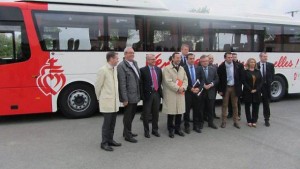 A first in France – The vehicle will be tested in Vendée, from 25th May to 4th June.
For the first time in France, a bus running on bio-methane will be tested in the Vendée region from 25th to the 4th June.  The bio-methane fuel is an alternative to diesel and is environmentally friendly and better for public health.  It reduces emissions of greenhouse gases by 98% when compared to conventional fuels and it does not emit any CO 2 .
This is the first time in France, a bus using bio-methane will be in service everyday for several days in a row so that a proper evaluation can be made.  The bus will first be used for the school run between  Cholet Les Herbiers to Mortagne-sur-Sevre, from the 4th – 22nd May, where it will transport fifty seven students over a distance of 30 km each way.
The Bus will also then be tested on a regular service in Vendée.  From the 25th May to the 4th June (except Sundays and public holidays), the bus will in service on the regular bus line: Cholet – Les Sables d'Olonne (via Les Herbiers, and La Roche-sur-Yon) , or 200 km return journey. 
The company Agribiométhane, based in Mortagne-sur-Sevre, who have produced the bio-methane for the operation of the bus, are working in partnership with the Vendee department so that a proper evaluation of the project can be made.