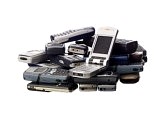 A strange trend is going on, here in France with an increasing number of French people going back to basics and finding their long lost old mobile phones.
Some companies are even turning this into a business making the most of this trend for the older style mobile phones by refurbishing and revamping classic Nokia, Ericsson, or Motorola models and selling them for between €50 and €550.
This new fashion for the older, simpler, phones is not just uniquely French. New York mayor Bill de Blasio, legendary Vogue editor Anna Wintour and pop star Rihanna have all been seen using phones from a bygone age.
There are currently 24million (44%) of people in France over the age of 11 who now own a Smartphone, according to Mobile Marketing Association France – but this low-tech trend for the older phones is particularly popular among younger people. According to figures most of the French following this new trend are under the age of 30, while there is a small element between 30 and 40 who are just  "looking to rediscover their youth".
The reason people seem to be turning back to the older phones is the longer battery life offered by these phones, along with concerns that people have with the issue of data security and personal privacy.
Not sure if it is a trend that I want to follow quite yet, although I would welcome the longer battery life.